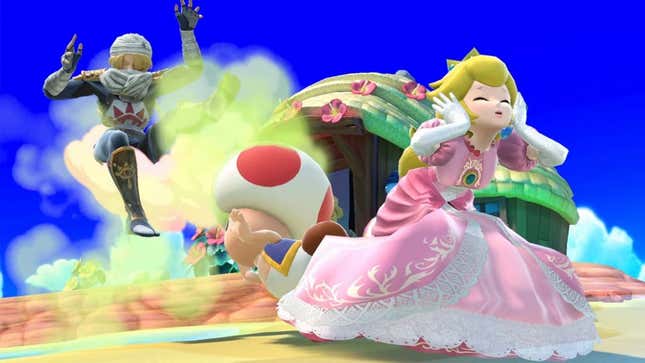 At a recent video game competition in Texas, a pro Super Smash Bros. Ultimate player trash-talked a 15-year-old after winning an important match against the young player. The Smash community's reaction was mostly negative, and things only got worse for the trash-talking pro when the kid's mom got involved and slammed the sore winner, calling him a "loser" with "no class."
Hollow Knight: Silksong's New Gameplay Trailer Is Living Rent-Free In Our Brains
Low Tide City 2023, a large esports event featuring many games, was held over the weekend in Texas on May 13 through 14. One of the biggest games featured at the event was Super Smash Bros. Ultimate, Nintendo's immensely popular platform fighting game that mashes up various characters from different Nintendo franchises with guest characters into a giant, chaotic mess. And during a Top 8 match over the weekend, Smash pro Enrique "Maister" Hernández allegedly got too intense and negative with his 15-year-old competitor, who's known as Syrup.
As reported by Dexerto, after winning the match against Syrup, Maister allegedly fist-bumped Syrup and then told the younger player, "You fucking suck." Esports player Jude "Jakal" Harris tweeted a screencap of DMs describing the incident after it happened.

Maister would end up getting third overall in the tournament, and also won a doubles tourney at the event.
Syrup's mom hops on Twitter to slam Maister
After the match, Maister took to Twitter to attempt to justify trash-talking the kid. But Syrup's mother then jumped in, responding to the pro player herself. She didn't mince words, telling Maister that he was a loser and had "zero sportsmanship."
"As an adult, I think players such as yourself have no class, zero sportsmanship, even if you win, you're still a loser all around," she tweeted. "I have the utmost respect for all players but you're the low of the low! No doubt."

Shortly after this response, Maister deleted his initial tweet that attempted to justify his actions and posted a longer apology. According to Maister, he has tried talking to Syrup since the incident but the kid doesn't seem interested. He said he should "not have trashed talked him" not only because of Syrup's young age, but also because the young competitor had "not done anything to me nor did he say anything to me prior, during or after" the match.
"[Syrup] is a great player with a lot of potential in him, he got 9th at a major tonight for a reason. What I said was unacceptable, and I'm sorry," said Maister.
Kotaku has reached out to Maister and Syrup about the situation.
As for why Maister said what he said, the pro says that while this isn't an "excuse" he claims to have forgotten how young Syrup is. He finished his statement and apology promising to learn from his mistakes and to "do better in these situations moving forward."

Read More: Major Super Smash Bros. Tournament Leaves Attendees Ill
Meanwhile, Syrup's mother's tweet slamming Maister went viral in the Smash community and she received an outpouring of support from other players and fans for her actions. (It no doubt helped that all of this happened the day after Mother's Day.)
In response to all the well wishes to her son Syrup and support for her tweet, Orchid thanked everyone for their "kind words, support and the Mother's Day wishes." She added that she was "truly grateful and touched" by all the support for her son.
.