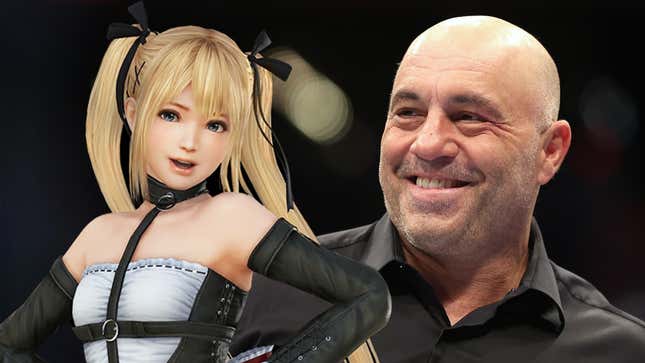 Listeners of Joe Rogan's podcast often run the risk of witnessing the self-proclaimed "f—-ing moron" spew garbage like covid misinformation, platforming the internet's biggest crybaby, or routinely exercise media illiteracy. On the latest episode of The Joe Rogan Experience, the UFC color commentator admitted to having played the fanservice-riddled fighting game Dead or Alive, and also that he's pretty terrible at it.
The Week In Games: System Shock, Street Fighter 6, And More
In episode 1926 (christ) of The Joe Rogan Experience, captured in a brief clip by Twitter user sugarc0maa, Rogan said he's dabbled in playing Dead Or Alive with his daughter and that she absolutely destroys him with just one move.

"I play that karate game, is it Dead or Alive? It's a fucking great karate game," Rogan said. "My daughter kept fucking me up. … She was so happy and I was so upset with myself."
The source behind Rogan's FGC johns was that he couldn't block the overhead of a lil lady's spinning head kick and beat him. After Rogan's producer "Young" Jamie Vernon Google-searched the fighting game Rogan confirmed that the "lil lady" that kept rocking his shit was none other than the "Wicked Lil' Servant" Marie Rose. For those who were curious, Marie Rose stands at a towering 4' 10". Because no one asked, Rogan also confessed that Rose is hot as fuck. I'm partial to Christie but to each their own.

Read More: Dead or Alive 6: The Kotaku Review

According to EventHubs, the DoA game Rogan and his daughter were likely playing was Dead or Alive 5 or Dead or Alive 6, because the deadly maid with pigtails is only playable in those two. At the end of his DoA nonsequitur, Rogan issued a glowing review of the game to his guests, comedians Matt McCusker and Shane Gillis.

"[Dead or Alive] is so addictive and you can use some martial arts strategies in that game if you know good techniques," Rogan said.