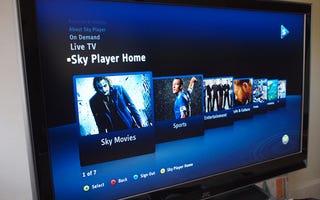 It's official. In the UK, Sky has launched on Xbox LIVE and Gold members with at least 2Mb broadband and either a Sky TV or Sky Player can watch Sky One, MTV and Sky Arts, reports CVG.
Those without Sky subscriptions can subscribe for £15 and for £19 for sports channels. Twenty-four channels are currently on the Sky service.
According to Sky's David Mercer, terrestrial channels are not yet available and programs won't be shown in HD because of poor British broadband speeds.
"For BSkyB it offers further evidence that its future subscriber growth is not dependent on its traditional satellite set-top box strategy," said Mercer.
"For Microsoft it is further confirmation that the Xbox is on its way to becoming not just a games console, but rather a complete home entertainment system."
When asked when Sky is coming to the PS3, Sky's Stephen Nuttall told TechRadar, "So we - Microsoft and Sky - are very focused on making this an enormous success this autumn and working together to deliver a great project.
"...To be honest we're kind of neutral about how people access our content and don't feel we should proscribe how people should be watching Sky. Our job is just to give people options."
For more impressions and pics of Sky Player on Xbox 360, check out Electripig.co.uk.
News: Sky dodges PS3 player question [CVG]
News: Sky on Xbox Live OUT with 24 channels [CVG]