Last week I asked you to pitch some secrets for the Switch version of Firewatch, and you all delivered things that are better, and more secret, than I could ever imagine. Let's dig in.
Our winner this week really went for the massive, composite secret experience. I mean, they really just jammed this universe full of as many secrets as humanly possible.
That's right, our winner this week is Chris Mc, who placed so many secrets into the game that you might not even think that they're secrets. Instead, you might think that they've ruined the game. It's really a judgment call on your part.
I also have a list of stunning honorable mentions that I want to show you. I encourage you to check out the original post for all of the brilliant entries (especially the multiple entries).
G/O Media may get a commission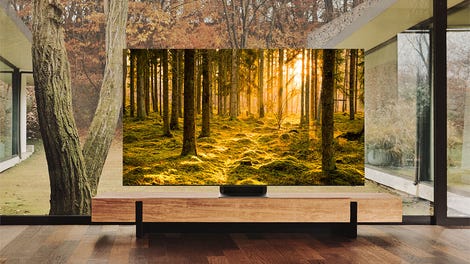 Up to 40% off
Samsung Smart TVs
Bob found a pleasant place and really messed it up by adding a dragon.
Ihsus has got us deep in note-reading territory, and I get it. I like notes.
chernicky put world-famous comedian and good person Hannibal Buress into the game. I don't know. It's good.
MiiXD has asked us to consider if fires are all we should be watching out for.
cecil_banon put a bunch of damn trains in the game!
sciteach discovered where the fire has been coming from.
Done With Kinja knows a good cross promotion when they see it.
Brian has dug deep into the secrets mines and really come out with something spicy.
Chelsea of Tranquility found that devilish boy.
Mrichston went modern for this one. I'll be honest, I'm not sure how helpful this map is going to be here.
Cartoonivore has created some Gameplay Implications with this image, but I will leave them for you to puzzle out.
Kelly Cardigan found a scary thing. No thanks.
And that's all for this week! Thanks again to everyone who participated, and I'll see you again tomorrow for a new 'Shop Contest!