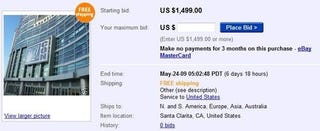 Yesterday, tickets for BlizzCon 2009 sold out in record time, some say even before they officially went on sale. So color me surprised that today eBay is lousy with the tickets.
Prices are all over the place, with the highest buy it now price for a set currently listed at $1,500. The highest bid as of this afternoon for a set was at $910 with four days left to go.
There's obviously an issue with scalpers, but I don't really know how Blizzard can address it other than by really cutting down on the number of ticket you can buy at a time, or greatly expanding the size of the event.