There have been sightings of Street Fighter IV arcade cabinets popping up over the last week in North American cities. We received a few tips from people claiming the Chinatown Fair arcade in Manhattan got their very own cabinet, too. So since I never have anything to do on the weekend, I figured I'd take a stroll over there to see for myself. Well, sure enough, they did! It certainly wasn't official looking, but nonetheless, it works and I got a chance to sit down and get a few rounds in. So how does it play? Let's just say it'll make your eyes orgasm.It's been a good 10 years since I last stepped foot in an arcade. The two I spent a lot of my time in during my youth had closed a long time ago. So when I walked into the Chinatown Fair arcade yesterday to check out Street Fighter IV for the first time in person, it was a bit of a sensory overload with all the machines lined up in a tight space. There were a surprisingly large amount of people there on a Sunday afternoon, and even most of the machines were all occupied, but of course the biggest crowd swarmed around the recently installed SFIV machines. I walked up and wrote my name down on the list being passed around the group to organize when it was your turn. I had about four matches to go before it was mine, so I had some time to check out the gameplay a bit and study the move list someone printed out, but I knew I was still going to get my ass handed to me. What first struck me visually about this game is the color and art style. Yeah, I've seen screenshots and movies just like everyone else, but when you see this game in person on a nice monitor, the color and animation really stand out. The little facial animations from fighters taking hits or performing combos is an amazing detail, and then there's great lighting cast upon characters from a setting sun or torches in the background. It just looks really polished, and I think this game will still look amazing 10 years from now.
I also noticed a lot of subtle touches the game has, specifically going on the backgrounds of stages. One of stages is on a boat floating along a quiet river, with a bunch of small items lying on the deck, such as chairs and life preservers. So when Zangief does, say, his Spinning Piledriver, the boat shakes and all the items bounce in the air with some water splashing up when you come crashing to the ground. I also noticed a monkey fall into the water in the background of the jungle level, and you can see him struggle trying to swim. I thought he was going to drown, but he pulls himself up on the wooden walkway your fighting on and sits and watches the rest of the fight. The attention to detail is just insane, and it's fun looking for details like this while you wait for your turn. So it was finally my turn. Here we go! Much to my dismay, it cost a $1.00 to play. A WHOLE DOLLAR! What happened to games being $.50? And I couldn't use tokens, either. The machine would only take bills. No strip club for me tonight! Anyway, the setup was something unique to me. Each player got his or her own monitor and I even had a chair to sit in. I guess this is what they do in Japan? Looks like I need to order Ashcraft's book after all.
I played it safe and picked Ryu; my opponent picked Ken. As soon as the first round started, I knew I was in trouble. I couldn't pull off any moves and my opponent was beating me mercilessly. I go down without getting many hits in at all. The second round I faired much better in. I got off a few Shoryukens and Hadoukens, but still lost. But hey, I got my opponent's life bar down about half way! Some random spectator jokingly said it best. "Dude, you looked like you were playing as if you were blindfolded!" I'll take that as a compliment. It's tough for me to say how the controls are simply because I don't play many fighting games. I can say that everything seemed tight and responsive. The sticks they had were a bit small for my liking, but I think any concerns those of you had about the controls need not to worry. So there you have it. Street Fighter IV in the arcade. I wish I had more time to sit down and play it like I would at a demo session. I didn't get a chance to try out the new characters, and I never got a good run down on how the Focus Attacks work like Fahey did, either. But I still came away extremely impressed with this game. If you have an opportunity to play it at an arcade, I suggest you do so. I still think it's still the best atmosphere to play fighting games in since everyone respects each other (no trash-talking XBL idiots!) and you can learn techniques and styles from other players. Event Hubs has been updating a list of arcades getting SFIV cabinets. Check out what they have so far below and look around at any of your local places to see if any came in. Also take a look at some other pictures I snapped if you feel so inclined.
United States California Super Arcade 1211 N. Grand Ave Walnut, California 91748 Arcade in the Student Union San Jose State University 1 Washington Square San Jose, CA 95192 (408) 924-1000‎ 75 cents per game, KIT Machine, Happ sticks, side by side cabinet San Francisco State University Rack 'n Cue arcade (located on the bottom floor of the Student Center) 1600 Holloway Avenue San Francisco, California (415) 338-1111‎ 75 cents per play, two cabs, HD display, Happ joysticks Family Fun Arcade 10363 Balboa Boulevard Granada Hills, California, 91344 (818) 360-0419 $1 per play, 2 cabinets, HD monitors, American sticks with Japanese buttons. New York Chinatown Fair Video Arcade 8 Mott Street New York, NY 10013 (212) 964-1542 $1 dollar start and continue, Japanese style sit down cabinets with 32" HD monitors Pennsylvania University Pinball 4006-08 Spruce Street Philadelphia, Pennsylvania 19104 (215) 387-9523 $1 per play, p360 sticks, Japanese buttons Texas Planet Zero 12303 Westheimer Road Houston, Texas 77077 (281) 531-9376 Arcade UFO 3101 Speedway Austin, Texas 78705 $1 play/continue, 32" monitors, Japanese cabinets with Sanwa controls Washington Narrows Plaza Bowl 2200 Mildred Street West University Place, Tacoma, Washington 98466 (253) 565-1007 $1 per play, two cabinets with 32" hi def LCD monitors Canada Toronto Lovegety Station 505 Highway #7 East Richmond Hill Commerce Gate Toronto, Canada (905) 709-7910‎ Richmond, B.C. E Spot Billiards & Arcade 7951 Alderbridge Way, Suite 160 Richmond, British Columbia, Canada (604) 232-9963‎ Burnaby, B.C. CHQ Metrotown 4000 Kingsway Burnaby, British Columbia, Canada Circus Circuit / Lesters 4247 Lougheed Highway Burnaby, British Columbia, Canada $2 a play, KIT cabinet, American Sticks New Zealand Auckland Yifan's Arcade Queen Street Auckland, New Zealand Australia Brisbane Replay Family Entertainment Centre‎ 142 Albert Street Brisbane, QLD, Australia (07) 3221 3733‎ $2 per game (Aus), Japanese sticks/buttons. Haymarket Galaxy World Haymarket Level 3 Market City, Quay Street Haymarket, NSW 2000, Australia (02) 9281 4543‎ Melbourne Box Hill Timeout 609 Station Street Box Hill, Melbourne, Victoria, Australia Bluehouse Arcade Corner of Bourke and Russell Streets Melbourne, Victoria, Australia $2 a play Galactic Circus at Crown Casino 8 Whiteman Street Southbank, Victoria, Australia (03) 8646 4141 $2 a game, competitions every Friday, Saturday and Sunday. Sydney Galaxy World Family Fun Centres‎ 624 George Street Sydney, NSW 2000, Australia (02) 9621 5133 HD monitor, dual screen cabinet Korea Seoul Jungin Arcade Noryangjin, Seoul, Korea Unconfirmed Locations The places listed below have not yet been confirmed, you should probably call in ahead of time to see if a machine is there. Rocky's Replay 1121 State Road 436 Casselberry, Florida, 32707, U.S.A. (407) 260-0043 Funhouse Family Entertainment Arcade in Sunnybank Plaza Mains Road & McCullough Street Sunnybank, QLD 4109 Brisbane, Australia Phone: (07) 3344 6022 Eastdale Mall 1000 Eastdale Circle Montgomery, Alabama 36117 (334) 277-7380 50 cents per game
G/O Media may get a commission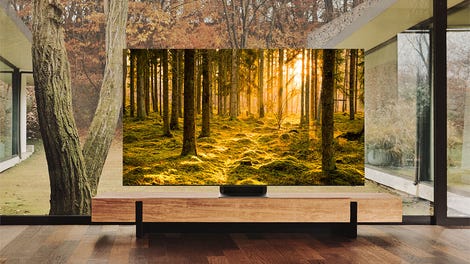 Up to 40% off
Samsung Smart TVs
Street Fighter 4 Arcade Machine Location Tracker