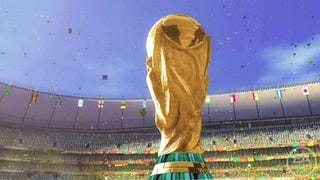 EA Sports released another seven screenshots of its upcoming FIFA World Cup 2010, offering a look at the Italian, Spanish and American sides, and some wacky French fans.
French fans. That's not a glitch, just some confetti floating across their faces.

Italy and Spain walk on to the pitch.

The Italian and Spanish sides are introduced.

Italy are the defending world champions.

Forza Italia!

The Americans are grouped with England. England's looking for its first World Cup victory over the United States since an embarrassing 1-nil defeat in 1950, the only time the two nations have met in this tournament.