Some of the world's best Smash Bros. players say they are owed thousands of dollars for their performances in a tournament called BEAST 7 held in Sweden last February.
The Week In Games: Fishing For Mysteries And Gang Wars
Adam "Armada" Lindgren, the first place winner in the event's Super Smash Bros. Melee bracket, tweeted yesterday that BEAST 7 had yet to provide "an explanation of exactly where all the money went," and that the situation had been "handled in a really unprofessional way. Guess I have to talk to the other winners and see what we will do."
Ramin "Mr. R" Delshad, who placed first in Smash 4 at BEAST 7, also posted yesterday about his missing winnings. He noted that head tournament organizer Alexander "Lolex" Gabrielsson had not responded to his emails since April, and that the rest of the BEAST tournament organizers had told him "not post anything about Lolex until their official statement."
Compete reached out to Delshad, Lindgren and Lolex for further details yesterday and today, but did not hear back before press time. But it appears very unlikely that the players will be paid, based on comments other tournament officials have made publicly and to Compete.
G/O Media may get a commission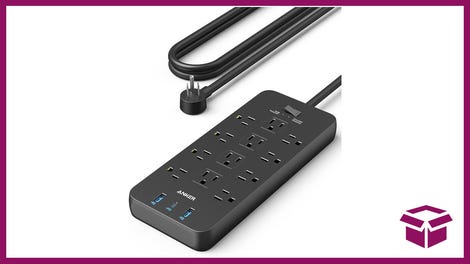 28% Off
Anker Power Strip Surge Protector
Yesterday, BEAST staffer Viktor Johansson acknowledged on Reddit that there was a delay on delivering the prize pool, which totaled €12,720 (or $15,109.13) across six different game tournaments. In the statement, Johansson said he had concerns about Lolex's financial strategy, even ahead of BEAST 7: "I did not want the money to be handled by Lolex only again, because the feeling that he isn't the best with numbers was already present." He added: "The way Lolex handled tournaments is pretty much why we're in our current situation. 'Going in blind' is how I would describe it. He does not want to work with a budget."
BEAST 7 has produced a string of dire news stories. Shortly after the event, BEAST staffer Anna "Annapower89" Fröderberg came forward with allegations of sexual harassment and financial misconduct on the part of BEAST's Lolex. Twelve members of the BEAST crew stepped down in solidarity with Fröderberg.

In the Reddit post, Johansson wrote that "Lolex seemed very keen on fixing all of the troubles before AP89's statement, and just recently he has been working with us." In an emailed statement to Compete, a BEAST tournament representative stated that, "except sporadically," Lolex has been "unresponsive since March," which is the same month as Annapower89's sexual harassment allegations. (UPDATE at 6:05 PM: A previous version of this article misstated BEAST's tournament representative as having said Lolex had not been in contact at all since March.)
The BEAST representative's statement to Compete went on to say, "The winnings unfortunately cannot be paid out. The money intended to go to prizes has been spent to pay for the unexpectedly high costs of hosting the tournament. The intent was never to make people forget and move on when delaying the information about the prize money. We were concerned for the health of Lolex and chose to not push him too hard, since we still needed his cooperation." When pressed about the nature of the concerns about Lolex's health, the BEAST rep clarified, "His mental health."
When asked by Compete about other methods for paying out the tournament winnings, the BEAST rep responded: "some form of donation or bailout, which seems highly unlikely."
While competitive gaming is on the rise, it remains an all too common sight to see players complaining about not getting paid their winnings. In July, we reported that winners of the 2016 CS:GO World Championships haven't yet been paid, seven months after that event happened. A year ago, esports company Doesplay went out of business and disappeared, still owing thousands of dollars to players in prize money. Last May, several prominent Smash players voiced interest in unionizing in an effort to combat tournament over-scheduling and erratic pay-out timelines.