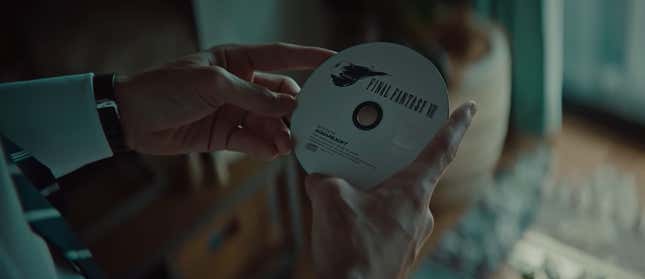 Clocking in at seven minutes long, this Final Fantasy VII Remake ad is the longest commercial to ever air on Japanese television. It's like a seven-minute short film about people into Final Fantasy VII.
The Week In Games: What's Coming Out Beyond Cyberpunk 2077: Phantom Liberty
As pointed out on GameSpark, the commercial aired over the weekend during an annual 27-hour block of programming hosted by Beat Takeshi.
The spot stars popular actors Masataka Kubota, Misato Morita, and Tetsuji Tamayama.
Kubota stars as a young businessman who has never played Final Fantasy VII. At the beginning, he finds a copy of FFVII his wife had left out after reminiscing. They don't have a PlayStation at home, so he cannot play the game. At work, his superiors talk about the game and later, his wife recalls playing the game with her now-estranged brother. Kubota gets more and more interested in playing the upcoming remake and by the end, he decides to go buy a PS4 to play the game with his wife.
Again, this is an ad, but it's refreshing to see adults on television talk about video games in a fairly normal way. These games are part of our lives, and this seven-minute short understands that.
It also hopes you'll buy Final Fantasy VII Remake.
Here is the longer 13-minute cut.