Nintendo has only said its new Wii U console will be out in 2012. Former rival Sega, however, has been a little more specific.
In an interview with GameSpot last week during E3, Sega executive vice president of marketing Alan Pritchard said "the Wii U is coming out next spring/summer".
Blunt! It's not, however, confirmation of a release date, as he's a third-party representative speaking at a busy, hectic trade show.
But as a general idea from a guy who knows more about it than you do, it's one to file away for the future!
G/O Media may get a commission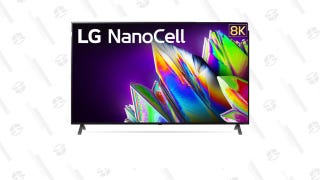 LG 75-Inch 8K TV
E3 2011: Sega's Pritchard talks Aliens: Colonial Marines, used sales [GameSpot, via VG247]
(Top photo by Kevork Djansezian | Getty)