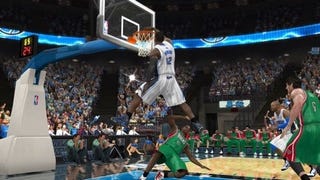 The guy who won an eBay auction for a bona fide retail copy of the indefinitely-postponed NBA Elite 11 will be playing the game and streaming it live in about 40 minutes.
Update: The LiveStream has ended, apparently on a copyright infringement claim made by EA Sports. Original post follows.
So if you want to see what scared EA Sports into delaying this release, one week before it was due on shelves, tune in. I've spoken with the winning bidder, who paid $255 for a retail PS3 disc and received the game on Monday. His previous YouTube videos of the game have been taken down on copyright claim notice.
He says the seller was someone at a distribution warehouse and that the game was one of three damaged goods - broken case, but not the disc - that were held out of a shipment that went to retailers before EA Sports announced the postponement.
NBA Jamming 11 [ustream via Operation Sports]