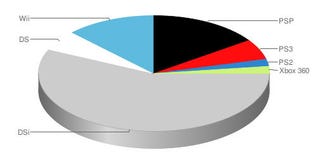 Dragon Quest IX went on sale in Japan last week. It sold a lot. It also sold a lot of Nintendo DSis. And it certainly didn't help the competition.
While Nintendo DSi sales more than doubled—in part, thanks to a limited edition Dragon Quest-branded version of the device—every other platform saw a decline in sales week-to-week in Japan. Not surprising, considering the amount of yen earmarked for a new Nintendo DS purchase and the fact that almost nothing came out against Dragon Quest IX.
So now you know why there's a massive slice of gray in this week's Media Create hardware sales chart. The numbers are after this.
Nintendo DSi - 118,202
PSP - 26,527
Wii - 22,141
Nintendo DS Lite - 10,161
PlayStation 3- 9,864
Xbox 360 - 3,561
PlayStation 2 - 3,508