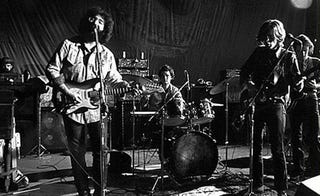 The downloadable content for Rock Band keeps on truckin', with a second bowl full of Grateful Dead tracks due to hit the game's music store starting January 27th. What can Dead Heads look forward to?
Another half-dozen jams, all master recordings, all $1.99 (160 Microsoft Points) each. The Grateful Dead Pack 02, priced at $9.99 (800 Microsoft Points) for the bundle, for Rock Band and Rock Band 2 features the following tracks.
"Hell In a Bucket" from In the Dark
"Don't Ease Me In" from Go To Heaven
"Cold Rain & Snow" from Steal Your Face
"Doin' That Rag" from Aoxomoxoa
"Fire On the Mountain" from Shakedown Street
"Uncle John's Band" from Workingman's Dead
Harmonix has at least one more six-pack of Grateful Dead tracks on the way, as announced way back in the Fall of 2007.