Stuart Beattie, responsible for big screen adaptations of Pirates of the Caribbean and G.I. Joe, is a big Halo fan, having "read every book, played every game, every graphic novel." Proof? His unsolicited Halo: Fall of Reach screenplay from 2007.
With the Peter Jackson produced Halo film said to be "entirely dead" by the man once attached to direct it, Neil Blomkamp, Beattie may be the Halo fan's last best hope to get a Master Chief movie back on track. If it does come to pass, he believes "a Halo movie would just be awesome, especially this Halo movie."
Beattie tells Sci Fi Wire that it's the Fall of Reach story that needs to be told, the one novelized by writer Eric Nylund. And hey, his script just happens to be based on that novel.
G/O Media may get a commission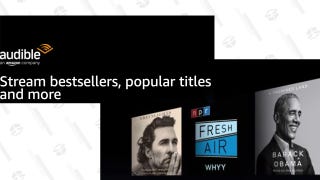 FREE
Audible Premium Plus 3-Month Free Trial
But the script writer and junior director says he doesn't expect to take the reins of a big budget Halo movie just yet. Give him a few movies, a few more years and maybe. Until then, settle for paperback books, fan fiction and that Fall of Reach concept art that leaked last year.
Maybe when Halo: Reach is released and makes a couple bucks, we'll see some progress.
Why Stuart Beattie believes his Halo film will work [Sci Fi Wire]