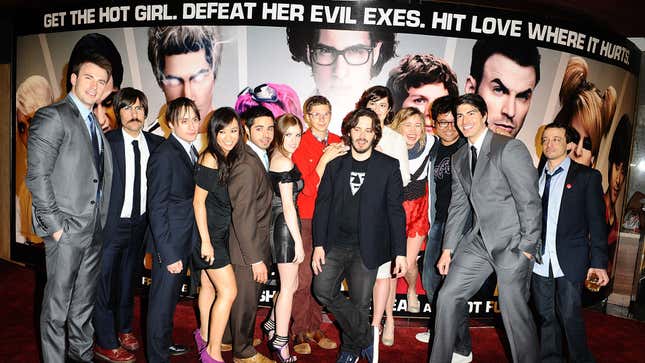 On Thursday, the official Netflix Anime account announced that the cast of the live-action 2010 Scott Pilgrim movie will reprise their roles in the upcoming Scott Pilgrim anime.
Read More: Netflix Is Planning On Making A Scott Pilgrim Anime

"This is not a drill! This is happening!," Scott Pilgrim director Edgar Wright tweeted. "After much musing over the years about there being potential for an anime adaptation of 'Scott Pilgrim', I'm thrilled to say one is IMMINENT, with the whole cast back together and…you are going to lose your minds." The cast includes Michael Cera, Chris Evans, Mary Elizabeth Winstead, Brie Larson, Anna Kendrick, and Aubrey Plaza, among others.

Getting the Scott Pilgrim band back together
In a follow-up tweet, Wright said "assembling the dynamite cast of Scott Pilgrim" was "one of the proudest, most enjoyable achievements of my career." As Wright referenced in his tweet, the Scott Pilgrim anime will be the first time the cast will reunite on "an actual project." Two years ago, Entertainment Weekly hosted a Zoom call table read with the cast where they raised funds toward Supporting Water for People, a nonprofit organization whose mission is to help create a world where every person has access to reliable and safe water and sanitation services. You can watch their EW table read below.

Read More: Every Upcoming Hollywood Anime Live-Action Adaptation That's Got Fans Stressed

We first learned of a Netflix Scott Pilgrim anime last January. According to The Hollywood Reporter, series creator Bryan Lee O'Malley is set to write and executive produce the series with Are You Afraid of the Dark? showrunner BenDavid Grabinski. Edgar Wright, the director of the 2010 live-action film, will be involved in the anime as well. Science Saru—the anime behind Devilman Crybaby, Night is Short, Walk On Girl, and Ping-Pong The Animation will animate the series.