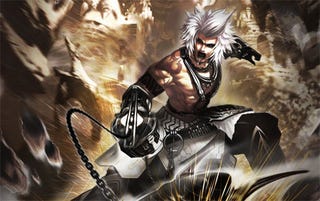 Tecmo has put a firm and final date on Rygar: The Battle of Argus, the PlayStation 2 action adventure turned Wii-make that drops its last-gen Greco-Roman look for spiky, tattooed, anime-inspired visuals.
The publisher now plans to release the Wii-remote enabled Rygar on February 3, 2009 for the nice price of $39.99. That may be a little later than you were expecting to waggle your way into the heart of Princess Harmonia, the prize at the end of your diskarmor chain, but you simply can't rush these things.
It takes a long time to get hair to stand that erect. A long time.