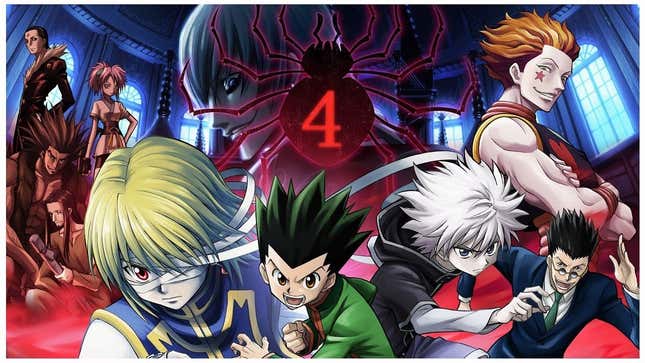 If you thought the war between Ukraine and Russia couldn't possibly get any worse, it just did. A group of Russian weebs cosplaying as a band of thieves from the popular shonen manga Hunter x Hunter have joined the fray.
Oshi No Ko Is An Early Anime Of The Year Contender
The gang in question is called the "PMC Ryodan" or the "Redan PMC," according to CNN (the gang's name has been spelled both ways in news coverage). PMC Ryodan is both a reference to Russia's Private Military Group as well as a HxH nod to the series' infamous band of thieves, the Phantom Troupe, also called Gen'ei Ryodan. HxH's Phantom Troupe, similar to PMC Ryodan, is a group of teenage outcasts.

Much like Phantom Troupe leader Chrollo Lucilfer creating a website to enlist criminals into his revenge plot, the PMC Ryodan reportedly got their start using Telegram channels to organize flash mobs to fight off football fans in Moscow. According to CNN, PMC Ryodan has since spread its violent acts of terror into Ukrainian cities like Kyiv, Lviv, and Kharkiv.
Warning: Graphic content of people fighting below
The Russian weeaboo copycat gang
The band of teenagers hasn't just copied the fictional Phantom Troope's moniker, they've also copied their aesthetic. Much like the Phantom Troupe, PMC Ryodan sport white spider symbols on the backs of their clothing. However, instead of having different members of the organization sport a different number inside of the spider motif, they all brandish the number four—the same number assigned to both the deadly assassin Kalluto Zoldyck and the enigmatic former Phantom Troupe member Hisoka Morow.

Back in February, law enforcement officers detained 350 members of PMC Ryodan at a riot in Moscow. Russian authorities reportedly found gas canisters, knives, and brass knuckles in the rioters' possession. Of the 350 rioters, 319 of them were minors, according to CNN.

In what I can only describe as a poor man's version of The Phantom Troop's invasion of the Cemetary Building, videos of the PMC Ryodan committing acts of violence in public spaces like the Aviapark mall in Moscow started making the rounds online last month. And no amount of Amadeus Mozart's "Requiem Lacrimosa" could make PMC Ryodan's acts of violence look less pathetic. They look like a bunch of try-hard musty Hot Topic weebs throwing hands in a moshpit. Creator Yoshihiro Togashi didn't bring the HxH manga out of its prolonged hiatus for this foolishness. While a HxH-inspired gang sounds silly on paper, and certainty looks silly in these videos, they're become a violent nuisance for Ukranians.
While the Ukrainian authorities are accusing Russia of exporting the PMC Ryodan as a means to exhaust their police force and spread misinformation about the war, Russian spokesman Dmitry Peskov said he also wants to put a stop to the PMC Ryodan because their "pseudo-subculture" is "a minus sign" that "does nothing good for our youth," according to CNN.

A 15-year-old girl who was detained in Kyiv for organizing similar "flash mobs" as PMC Ryodan told police officers that she did it "just for hype" and claimed that reports that Ryodan was in Kyiv were just "straight-up Russian propaganda," according to CNN.

As of Tuesday, March 2, Ukrainian authorities believe they have detained the alleged 16-year-old PMC Ryodan ringleader in Dnipro. In a video later released by the police, the leader was said to have revealed that he formed the group "to make money from advertising posts, as the topic of Redan is popular on social media," according to CNN.