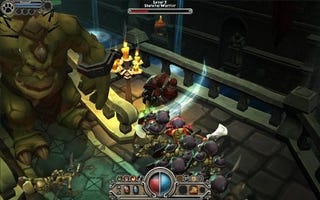 The dungeon-crawler Torchlight is due for an exclusive PC release on Oct. 27, but developer Runic wouldn't mind seeing the game offered on Xbox Live Arcade someday.
The Runic CEO Max Schaefer told 1Up that he and his team "talk about it a lot. We fantasize about getting the [Xbox Live Arcade] version, and that would probably be the one we did ... the XBLA one.
"We look at it and we say, 'This would really do great," Schaefer said.
Right now, Runic's priorities lie in another direction. The Runic team, which grew out of the ruins of Flagship Studios, will next be working on an MMO version of Torchlight, and Schaefer notes that "We have just one little team."
Runic Games 'Fantasizing' About XBLA Release For Torchlight [1Up]