We've continued to receive e-mails throughout the day from folks who it seems are now formerly in the employ of Lucasarts, telling us this and that about the circumstances behind their departure from the company. But few are as revealing as one we were sent earlier this evening. One former employee has told us not only how he was immediately sacked after six years of service, but how wide-ranging the layoffs appear to be, and the impact they'll supposedly have on many of Lucasart's upcoming projects. Some of them as-yet-unannounced. Projects like KOTOR 3, a Wii Star Wars title and the non-Lego Indiana Jones game.
The source tells us that the sackings are spread across the company, and involve (as we were told earlier) everyone from testers to head producers. They also re-iterate earlier reports that the number of staff affected is around 100, and that the cull actually began on Wednesday, and continued through into Thursday.
Most interesting, however, is the information they provide on how the layoffs leave the company severely short-staffed as they approach a packed development schedule, one which it appears may be increasingly outsourced. Some of the titles they report Lucasarts apparently have in this stacked pipeline, whether as publisher or developer, include:
- KOTOR 3 (They say it's an MMO: most likely a joint project between Lucasarts and BioWare)

- Battlefront 3 (which we've already heard about)

- "The Official Indiana Jones" game (probably this one)

- "another LEGO game based on the Indy universe"

- "a lightsaber game for the wii (sorry, no lightsaber peripherals)"
G/O Media may get a commission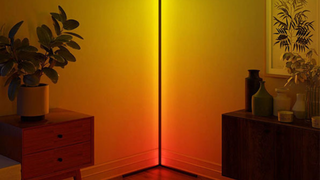 Save 60%
Minimalist LED Corner Floor Lamp
Two internally-developed games apparently far enough along to be unaffected by the sackings are The Force Unleashed (which they say has already "passed approval with SCEA and is ready to ship") and Fracture, which they say is described by team members as "an absolute piece of garbage".
As the testimony of a freshly-sacked employee, take that appraisal of Fracture with a grain of salt. And as the testimony of a freshly-sacked employee, don't expect Lucasarts or BioWare to go commenting on things like KOTOR3 or a Wii lightsaber game anytime soon. But it's certainly further food for thought.