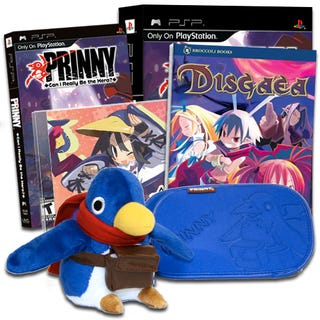 Fans looking to get a little more with their copy of Prinny: Can I Really Be The Hero? for the PSP next month need look no further that NIS's official online store, Rosenqueen.
Along with the standard retail edition of Prinny, which comes in a box with the soundtrack and a special Penny Arcade Prinny comic, Rosenqueen is offering a couple of bundles that provide a more complete Prinny experience. For $64.99 you can now pre-order the Prinny: Hero to the Rescue Set, containing the game, a lovely blue Prinny PSP pouch, and a red-scarved Prinny plushie just begging for punishment. An extra $5 nets you the Prinny: Ultra Dessert Set, which tacks on a Disgaea graphic novel to help you get the whole story.
Both the pouch and the plushie are also available for stand-alone purchase, so if you've already pre-ordered the game somewhere else you can still get the swag to go along with it.
Prinny Pre-order At Rosenqueen [Rosenqueen - Thanks Juan!]