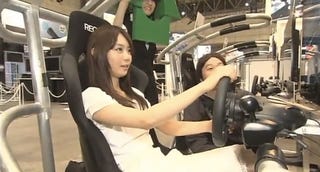 A young woman named Yurina Takiguchi wearing a siren on her head is about to test drive a Fiat in Gran Turismo 5. She has never driven a car before and doesn't have a license. Yep, this is Japanese television.
Takiguchi is from the television program Sakiccho. She's a student at the University of Tokyo, which means she's really smart. She also has a TOEIC score of 950, so apparently she's quite good at English, too!
She, however, is a not as good at driving — understandable! She flips her Fiat not once, but twice. Surely, flipping a Fiat isn't that easy in real life! But Takiguchi (accidentally) pulls the feat off no problem in GT5.
While driving, she comments on how realistic the game looks. And at the end of her GT5 driving experience, she says that the game has made her want to get a driver's license.
While the clip is from last month's Tokyo Game Show, it has recently been uploaded to YouTube by Japan's TV Asahi.
YouTube - さきっちょ☆ガール in TOKYO GAME SHOW 2010 最新ゲーム体験 Part4 [YouTube]