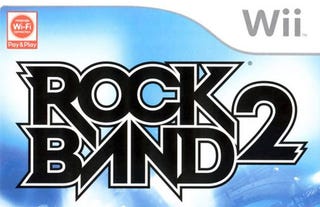 The Wii version of Rock Band is slowly catching up to its peers, with Harmonix releasing six familiar tracks via the Rock Band 2 in-game music store. Ready the Wii Points!
Now available to Wii owners are tracks from Nine Inch Nails, The Ramones, The Clash and Jimmy Buffet. Cost to you? A standard 200 Wii Points (aka $2.00 USD). The full list follows.
Nine Inch Nails "March of the Pigs"
Nine Inch Nails "The Collector"
The Ramones "Rockaway Beach"
The Clash "I Fought the Law"
Jimmy Buffett "Margaritaville"
Jimmy Buffett "Volcano"
Owners of the Wii version will be drip-fed the Rock Band DLC back catalog each week, with "regularly scheduled future DLC releases" on the hi-def competition available to Wii owners starting in February.