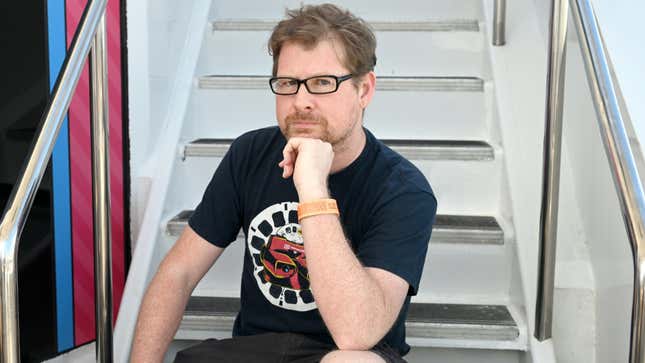 This January, Rick and Morty's co-creator Justin Roiland was charged with domestic violence against his ex-girlfriend. After the lawsuit became public, Roiland left the studio that created High on Life while Adult Swim dropped him from the hit series Rick and Morty. Today, Roiland tweeted that the case had been "dismissed" and that the allegations against him were false.
The Week In Games: Protecting The Precious And Time-Twisting Platformers
According to Roiland, the suit was based on "the word of an embittered ex trying to bypass due process and get me canceled." He tweeted that the lawsuit had ended, and that he was "determined to move forward" with his life and creative career.
NBC News originally reported on January 12 that a criminal complaint had been filed against the former director in May 2020 for "one felony count of domestic battery with corporal injury and one felony count of false imprisonment by menace, violence, fraud and/or deceit." He had reportedly been arrested for these charges and pleaded not guilty to two counts in October of that same year. As a result, he was placed under a protective order and forced him to surrender any firearms in his possession.
A spokesperson for the Orange County District Attorney's office told Kotaku that the case was dismissed "for lack of sufficient evidence to prove the case beyond reasonable doubt as a result of additional information that came to light in the investigation." Kotaku also reached out to Roiland's lawyers, but could not obtain a comment by the time of publication.
Not long after the original news broke out, Adult Swim announced that it would be cutting ties with Roiland for its most popular TV show, Rick and Morty. All the voices that he contributed for the show would be re-cast, and his co-creator Dan Harmon would be the sole lead through season 10. Roiland also left the game studio he founded, Squanch Games, a month after the first person shooter High on Life had become the most popular game on Xbox's Game Pass.
"I have always known that these claims were false and I never had any doubt that this day would come," wrote Roiland.
UPDATE 10:50pm, March 22: This post originally said Roiland plead guilty to the charges in October 2020, which is incorrect. The story has been updated to correct this, and we regret the error.