This week, the biggest game in Japan is Rhythm Heaven. It was created by a man who was at one time the biggest record producer in the country: Tsunku.
The Osaka native produces tracks and makes music for a variety of artists, such as Morning Musume (vintage pic above), who were the most popular idol group until AKB48 arrived on the scene and captured the public's imagination. He's also worked with a myriad of spin-off idol groups as well as female idols like Berryz Kobo. He's even worked with Ayumi Hamasaki, one of Japan's biggest popstars.
Tsunku, who often writes a ♂ after his name because he's extra manly, started out as the lead singer for rock outfit Sharam Q. The group searched for a female vocalist on then-popular variety show Asayan, hosted by former Hot Mario pitchmen, the comedy outfit Ninety-Nine.
G/O Media may get a commission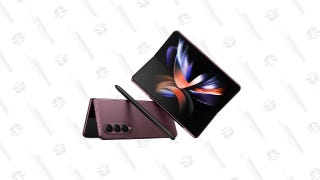 Save Up to $300
Galaxy Z Fold4
Tsunku told the five runners-up that he'd produce them if they could sell 50,000 copies of their first single in five days. Japanese television chronicled their effort, in teary reality TV fashion. The girls sold 50,000 copies in four days and finished it all up with a weepy performance. It made for great television, and the group, dubbed Morning Musume, mushroomed from five members and won over the entire country.
Morning Musume was a 1990s take on 1980s idol group Onyanko Club, but with slicker tunes and more polished performers. The group continues today with new members and diehard fans, but has been overshadowed by the 40-odd members of AKB48 and its spin-off groups like Nagoya-based SKE48 and Osaka-based NMB48. Former Morning Musume members continue to appear on TV, while one former MM singer, Mari Yaguchi, has been trying to move into gaming in a major way, voicing characters and writing for Famitsu.
As Morning Musume's popularity was on the decline, Tsunku expanded his reach in new ways, such as working on Rhythm Heaven for Nintendo. It wasn't Nintendo who approached Tsunku, but Tsunku who approached Nintendo. "In Japan, with games that use rhythm and sound, it's long been the case that the placement of accents and the timing of button-presses has had nothing to do with music," Tsunku told Wired in 2009. "For someone like myself, whose work revolves around music, this has never seemed right, and I wrote up my proposal in hopes of doing away with this."
Tsunku's staff got the proposal to Nintendo, and the producer met with the Kyoto-based gaming giant several times, which even involved dance classes, Tsunku was able to get his idea across to Nintendo game designer, and the title got the green light. The game, called Rhythm Tengoku in Japan, ended up as one of the Game Boy Advance's most interesting (and enjoyable) titles. It was later released as an arcade version, complete with giant buttons. Nintendo DS and Wii versions followed. For anyone who complains that there are no good Wii games, point them to the Wii's Rhythm Heaven.
Rhythm Heaven titles not only understand gaming, but also get music. The best part? They free players up from a closet full of plastic instruments.
Tsunku isn't the first professional musician in Japan to make the leap from music to music games. PaRappa the Rapper designer Masaya Matsuura, another Osaka native, headed up Japanese band Psy-S before moving into video games.
In the gallery, check out the variety of Tsunku's music over the years.
Culture Smash is a daily dose of things topical, interesting and sometimes even awesome—game related and beyond.
(Top photo: Love Machine | zetima)
---
You can contact Brian Ashcraft, the author of this post, at bashcraft@kotaku.com. You can also find him on Twitter, Facebook, and lurking around our #tips page.