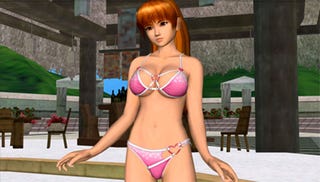 This week's batch of reviews proves that no site covers games prominently featuring women named Kasumi like Kotaku. Which Kasumi-starring experience, Mass Effect 2: Kasumi - Stolen Memory or Dead or Alive Paradise, did we dislike less? Find out!
iPad Review: Is This A Capable Gaming System?
In which Mike Fahey feels the magic of Apple's new miracle pad.
Heavy Rain Chronicles: The Taxidermist Micro-Review: Let's Try That again
In which Stephen Totilo gets stuffed on a new downloadable episode and uses the phrase "marvelous narrative chemistry set."
Dead or Alive Paradise Review: A Bikini Toll
In which I bemoan breast physics and a lack of Pokemon Snap appeal.
America's Test Kitchen: Let's Get Cooking Review: Top Chef
In which Brian Crecente further entrenches himself as Kotaku's resident cooking software expert. Sucker!
Mass Effect 2: Kasumi - Stolen Memory Micro-Review: Boredom Amongst Thieves
In which Luke Plunkett goes on an art heist that's minutes short and months late.