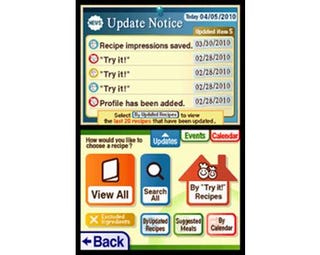 America's Test Kitchen: Let's Get Cooking isn't just a game. It certainly isn't just an interactive cook book jammed onto the DS. This is one of three games that Nintendo thinks will convince people to buy the big-screened DSi XL.
With more than 300 recipes, tons of written tutorials and 15 video guides, America's Test Kitchen: Let's Get Cooking sounds like a great kitchen assistant for all of you gaming foodies out there. And this time around the book doesn't just walk you through how to cook a meal, it is also meant to get families and friends to gather around a single DSi XL and use the device as a group.
Let's see how well it succeeded.
Loved
The Best of the Original: While America's Test Kitchen has more recipes, and a slew of new features, it is still just an upgrade of 2008's Personal Trainer: Cooking. And that's not a bad thing, especially since many of the original cooking DS title's best functions made it to this latest title. That means you still have video tutorials, voice recognition, cooking achievements, a built-in shopping list and calculator and that slick, easy to use interface.
More Recipes: For just $20, less than most cook books these days, you get 300 recipes and a guiding hand on how to cook them. That's 55 more than 2008's cooking title. There is some overlap between the two games, but also quite a few new meals to cook up.
Cooking With Personality: One of the most notable changes America's Test Kitchen brings to DS cooking is the ability to create profiles with cartoonish avatars and track their real-world cooking progress. It adds a much needed dose of personality to an experience that wasn't fun in the traditional gaming sense of the word. Not only can you create individual profiles, you can group them. In my case, my wife, my son and I were all placed in the Crecente group.
Chef Hand Off: Those profiles may seem gimmicky until you start cooking. Once you select a recipe, the game asks who will be cooking with you and you get to assign a head chef and assistants. Then you can go in and decide who is doing which parts of the recipe, or let the game choose. The end result is a cook book that not only allows family and friend cooking, but supports it, handling all of the micromanagement of who is doing what.
Sharing Recipes: If you're not comfortable crowding around a single DS while cooking (even a super-sized DSi XL screen) or want to cook two recipes at once, no problem. America's Test Kitchen lets you send 123 of its 300 recipes to another DS as a standalone download. That means you could have a whole kitchen of people cooking up their own recipes on their own DS at the same time. I love this feature.
Excluding Ingredients: One of the few things I didn't like about Personal Trainer: Cooking when it came out was that it was hard for me to sort through the recipes and find meals appropriate for my vegetarian wife. Or what if Tristan was allergic to nuts? This time around you can go in and exclude specific ingredients from your search results. The exclusion option can be very, very specific, like no Andouille sausage, or very broad, like no meat. Great addition!
Suggested Meals: Another neat new addition to America's Test Kitchen is how it looks at the built-in calendar to see what birthdays and holidays are coming up and then suggests entire meals based on them. This option seems slightly flakey at times (plenty of Birthday and Mother's Day meal suggestions but no Cinco de Mayo meals — despite having the event in the calendar), but it's still a neat idea.
An Easter Egg in a Cooking Game: I haven't unlocked it yet, but cook enough with America's Test Kitchen and you get a fun little mini game. While using the game's timer you can bring up a playable version of the classic Game & Watch game Egg and play it. The timer will continue to display in the bottom right corner as you play either of the two games.
Hated
Persistent Ingredient Issue: Why Nintendo? Why? Why do you make me stop cooking and switch to an ingredient list to figure out how much of that particular item I need to use in the recipe. This was one of my major annoyances with the 2008 cook book and it somehow remained in the 2010 version. As I mentioned in 2008, it can get tiresome having to back track every time you need to add a new ingredient. How hard would it have been to just spell it out?
No More Serving Size Selector: It's odd that the developers would remove so helpful a feature. But American's Test Kitchen no longer allows you to adjust the serving size of a recipe on the fly. Personal Trainer let you tap a button to change the serving size, automatically recalculating the ingredients when you did so.
America's Test Kitchen: Let's Get Cooking is in almost every way a much better cooking title than was 2008's Personal Trainer: Cooking. The developers have added the ability to track many different cooks on a single device and seemingly built the program to get people to huddle around a DSi XL. And it works. I've always enjoyed cooking with my son, but being able now to assign out specific tasks for a particular dish makes doing so a much more enjoyable experience.
The fact that the game allows you to send temporary recipes to DS-owning friends and family, essentially the digital equivalent of handing out recipe cards, is another huge boon for the game and for communal gaming on the DS. Sure it's really about cooking, but this title is playing around with ideas that could down the line have bigger implications on the way we experience video games as groups.
America's Test Kitchen: Let's Get Cooking was developed by Indies Zero and published by Nintendo for the DS on March 28. Retails for $19.99 USD. A copy of the game was given to us by the publisher for reviewing purposes. Cooked several meals alone and with my 8-year-old son Tristan.
Confused by our reviews? Read our review FAQ.