Insomniac Games, the makers of the Resistance and Ratchet and Clank series, will push into mobile and Web-based games development with a new division - Insomniac Click - that the studio unveiled on Saturday.
Going public with their plans at a social gaming panel at the South by Southwest interactive festival in Austin, Texas, Insomniac said its new Click division is dedicated to applying its development ethic "to new game experiences that anyone in the world can play."
Noting that such words are often dog-whistle terms to core gamers that the games are lighter fare, developed for business reasons, Insomniac reassured its longtime fans that Insomniac Click is an expansion, not a diversion of existing developers and resources to a separate variety of games.
"With the exception of myself, everyone working in the group has been newly hired specifically for their expertise in this space. All our existing teams are still 100 percent dedicated to making unforgettable AAA console experiences with our proprietary blend of double rainbows and awesomesauce," Brian Hastings, the Insomniac Games Chief Creative Officer, wrote on the company's official blog.
Noting that "many social games out there are more activities than games," Hastings says they still are "evolving at a more and more rapid pace.
G/O Media may get a commission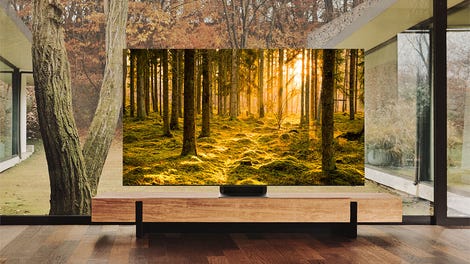 Up to 40% off
Samsung Smart TVs
"Many of the games available today are in fact real games by any definition a veteran designer wishes to construct," he added.
Though Hastings offered few details of Insomniac Click's first project, he did describe five principles informing the development of it and future games.
Among these are concepts like "social interaction must be socially enjoyable," - that is, the current system of inviting friends, sending them "gifts" or requesting favors from them on many Facebook games, isn't. Depth, a short learning curve that extends to a difficult-to-master game design, and "make it fun first" also govern their focus.
"We'll have more to announce and show off in the coming months," Hastings wrote. "We look forward to hearing what you would like to see in the social gaming space."
Introducing Insomniac Click [Insomniac Games]