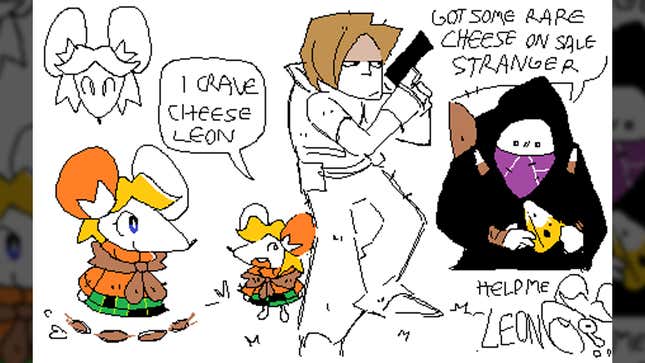 Capcom's social media team has been hard at work churning out a cavalcade of fancams and thirst trap posts to generate buzz for the Resident Evil 4 remake. However, as is the case with most things, it's work created by fans themselves that has more staying power than any corporate-generated meme ever could. Specifically, it's a madcap meme of Ashley Graham reimagined as a tiny cartoon mouse that has spread like wildfire in the game's community But where did this meme come from? Kotaku investigates.
Grand Theft Auto 6 Comments: A Dramatic Reading
Read More: Resident Evil 4 Remake: The Kotaku Review
Moushley Graham is 'cheesed' to meet you
Two weeks ago, a Twitter artist named Agrimmora posted an innocuous bit of fan art transforming Ashley Graham, the president's daughter, into a little mouse. This new Ashley, which has since been renamed Moushley Graham, is drawn similarly to the characters in the 1986 animated film, An American Tail.
Read More: Resident Evil 4 Remake As Told By Steam Reviews
Moushley's temperament is more akin to that of Ashley's 2005 incarnation than the remake's Gen-Z zoomer. Case in point: instead of creepily vying for Leon's attention, Moushley craves cheese. As someone who routinely wakes up in the middle of the night to scarf down a handful of shredded cheese, I can relate.
Speaking with Kotaku, Agrimmora said Moushley was inspired by fellow artist Salomon Calle Lorenzo's fan art depicting 2005 Ashley's giant-ass Dumbo ears. They found Lorenzo's caricature of Ashley's now-hidden satellite dish-sized ears "very funny."
"This drawing sparked a thought, 'What if Ashley was a mouse with big ears?' And this thought lingered in my head for a while until one day I decided to doodle the idea in MS Paint and post it to the internet, the rest is history," Agrimmora said.
The Moushley fan art virus is highly contagious
"What if you booted up Resident Evil 4 remake and Ashley was just a tiny mouse, what would you do," Agrimmora asked in the caption of their fan art. Turns out, like that domino-effect meme, Agrimmora set the RE4 fandom on a course of creativity no one could have anticipated. Like a swarm of ratties exploding out of the basement cellar in A Plague Tale, a legion of Twitter artists created their own version of Moushley. These permutations of fan art include cosplay, sprites, and a mod for the PC version that perches Moushley above Leon's head like Remy in Ratatouille. ("You can pretend like you're actually playing Moushley controlling Leon, that's the beauty of videogames," the mod's description suggests.) Here are some of our favorite pieces of Moushley content.
Grand opening, grand closing
Agrimmora gained six thousand Twitter followers since posting the Moushley Graham fan art a little over two weeks ago. Even the official Resident Evil Twitter account acknowledged the meme by posting a mouse and cheese emoji.
"It has been a pretty wild ride," Agrimmora said. "My friends were freaking out seeing Moushley appear all over their feed and were constantly sending me memes they found, it took me a while to realize how widespread this little mouse had become! And when the Resident Evil account tweeted a mouse and cheese emoji, I was simply in shock."
Regrettably, if you're anticipating a new piece of Moushley fan art from Agrimmora, that ship has sailed. In a recent tweet, Agrimmora said "If you are expecting more moushley content from me you are not getting that sorry." Though to be fair, this tweet was posted on April Fool's Day so there's a chance Agrimmora was pulling a fast one on us. Agrimmora told Kotaku they might post doodles of Moushley from time to time because "it's hard to say no to that silly face she has."
Should Capcom decide to slide into their DMs to negotiate a potential Moushley merch T-shirt deal, Agrimmora says they're "all ears."