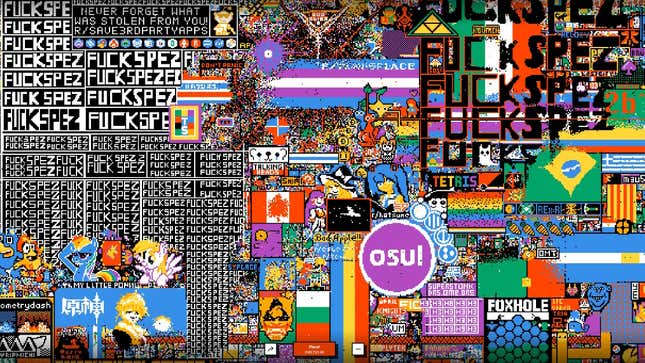 Reddit is a place where people come together. Indeed, it's home to many of the internet's biggest and most active communities, including, of course, thriving communities dedicated to just about every game, console, and genre imaginable. Now, that collective, collaborative quality is demonstrating itself in a new way. r/place, the Reddit-based collaborative art project, is back for its third incarnation since the 2017 original, and it couldn't arrive at a better time for pissed-off Reddit users who have had enough of the message board management's shit. With everyone able to place only a single pixel every few minutes, it's some collective fury that's allowing the result to be shaping up quite so cross.

The 3 Best And 3 Worst Korok Challenges In Tears Of The Kingdom
Last year, r/place saw an incredible total of 10.4 million people contribute 160 million pixels to create an astonishing and enormous piece of pixel art, 6000 x 6000 pixels big. Somehow meticulously detailed faces were created, despite the restrictions placed on any individual being able to deliberately directly draw. It was a strange and beautiful thing.
Jump to 2023, and times at Reddit aren't nearly so content. The introduction of charges to third-party apps caused widespread outrage, and in turn, a widespread outage, as many subreddits went dark to protest the decision. Multiple beloved third-party applications like Apollo and BaconReader have had to give up, facing API costs in the tens of millions of dollars, and users are livid. Which makes now the most peculiar moment for Reddit to think launching a new r/place might be a good idea.
With what might best be described as "optimism," Reddit posted the new version saying, "but hey, what better time to offer a blank canvas to our communities than when our users and mods are at their most passionate… right?"
Er, right. The results are predictable. "FUCK SPEZ" reads enormous swathes of the picture, over and over, referring to Reddit CEO Steve Huffman, who has been particularly tone deaf in his response to the protests and anger. "There's a lot of noise with this one," Huffman is reported to have written in a staff memo. "Among the noisiest we've seen. Please know that our teams are on it, and like all blowups on Reddit, this one will pass as well." It was hardly the message Redditors were looking for.
Such feelings are being made very clear on the canvas. In German across the top of the image it currently reads, "U/SPEZ IST EIN HURENSOHN," which translates to, "U/SPEZ IS A SON OF A BITCH." Elsewhere are the more normal depictions of Pepe, some My Little Ponies, and even some Pikmin, but by far the most prominent and repeated motif is "FUCK SPEZ."
Honestly, it's hard to imagine what else Reddit was thinking would happen. We've contacted Reddit to ask what else they might have been expecting, and whether Huffman might listen to any of this noise.