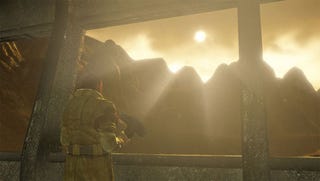 I loved the Red Faction demo, but have been holding off on picking the game up on console because, well, I'd rather play it on PC. Which has been tough, what with the PC version delayed and all.
But that long wait will soon be over, as THQ have finally gotten around to announcing a release date for the PC version of their Martian open-worlder. And that day is September 15 for Americans, and September 11 for "international" customers, which we'll imagine means Europe and Australasia.
The game will be available both in stores and digitally, though THQ are "still finalizing the digital distribution partners for each region".
To go with the release are the game's specs, which are:
Minimum:
# OS: Windows XP / Vista
# CPU: 2.0 GHz Dual-Core Processor (Intel Core 2 Duo or AMD Athlon X2)
# Memory: 1GB RAM / 15GB of Hard Drive space
# Video Card: 128MB 3D Video Card with Shader Model 3.0 Support (Nvidia GeForce 7600/ATI Radeon X1300)
Recommended:
# OS: Windows Vista for DirectX 10
# CPU: 3.2 GHz Dual-Core Processor (Intel Core 2 Duo or AMD Athlon X2)
# Memory: 2GB RAM / 15GB of Hard Drive space
# Video Card: 256MB 3D Video Card with Shader Model 3.0 Support (Nvidia GeForce 8800/ATI Radeon HD3850)