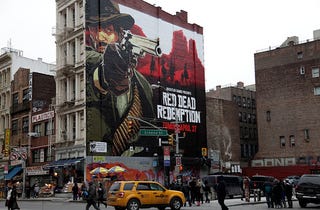 So your game is suffering from some poor publicity? Why not have a building-sized version of Red Dead Redemption's hero John Marston blow all your troubles away.
Continuing a long tradition of plastering New York City streets with giant game posters, this Red Dead poster can be seen on the corner of Canal & Greene (which, being only a few blocks away from Rockstar's offices, was also the location of giant Chinatown Wars and GTA IV advertisements).
Least it could be seen, if the city wasn't buried under shitty weather today.
East Meets West [Rockstar]