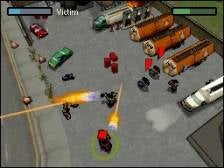 The British Board of Film Classification have given Grand Theft Auto: Chinatown Wars, an 18-rating. No surprise there, but the classification also mentions that there's 168 minutes of cutscenes in the game.
More than two hours of cinematics gives Chinatown Wars some heft and strengthens the perception this is going to be a very serious game for the DS. If you're curious, in the U.S., there are six titles for the DS to get a Mature rating. They are : C.O.R.E. (upcoming) and Theresia (2008); Ultimate Mortal Kombat, Dementium: The Ward, and Touch the Dead from 2007; and Resident Evil: Deadly Silence, from 2006. The highest rated of those, on Metacritic, was Dementium, to "mixed or average reviews." So a good GTA game will indeed break ground on this platform.
Also, on this side of the pond, the ESRB rated four titles for WiiWare and the Virtual Console, including Punch-Out for the Wii, which means it might be on the way sooner rather than later. And it might be paired with Super Punch-Out!!, which was rated for the VC.
GTA: Chinatown Wars first DS Game to Get 18 Rating from BBFC, has 168 Minutes of Cut Scenes [QJ.net via Cubed3]
ESRB Rates Upcoming Virtual Console and WiiWare Titles [Nintendo World Report via Codename Revolution]