The Nintendo Wii couldn't contain the Raving Rabbids' first solo game, so Ubisoft is bringing Rabbids Go Home to the DS as well, with extra-added functionality for those who've upgraded to the DSi.
Featuring the same storyline as the Wii version, Rabbids Go Home DS trades in the console's Katamari-esque collecting gameplay for a puzzle-adventure format. The little screaming mutant bunnies work their way through 15 levels, solving puzzles in order to gather enough garbage to build a tower to the moon, which their vast collective intellect has determined to be their home.
Once you've completed the story mode, there's four challenge modes with twenty puzzles apiece, as well as a level editor that lets players create and share their own puzzles with the Ubisoft community.
As an added bonus for those of you with the DSi, Ubisoft is including My Rabbids, a camera-based application that allows players to customize their photos with Rabbids clip-art. It's not the most innovative use of the technology, per se, but at least someone is using the damn thing, right?
Look for Rabbids Go Home DS to hit stores this holiday season.
G/O Media may get a commission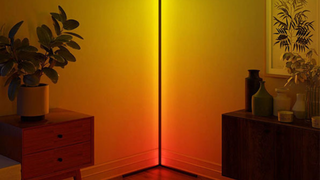 Save 60%
Minimalist LED Corner Floor Lamp