Fighter | TOKYO, JAPAN: Pro-gamer Daigo Umehara plays the Street Fighter cabinet with big, punchable buttons. (Photo: 4Gamer)
---
Westerners notice it. The clothes run slightly smaller, and a medium in Japan would be a small-or even a petite-back home. Barring the exception here or there, Japanese people tend to have smaller frames. More »
G/O Media may get a commission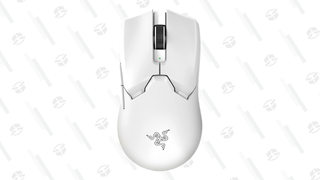 15% Off
Razer Viper V2 HyperSpeed Wireless Gaming Mouse
Pro gaming
ses a focus pro 30k optical sensor for unreal accuracy, is only 59g which puts little-to-no pressure on your wrists and allows for faster response times and longer sessions, has switches that last for 90 million clicks, has an absurdly fast wireless connection, and a battery life of up to 80 hours.
---
Bizarrely, the imprisoned founder of file-sharing site Megaupload - Kim Dotcom, formerly Kim Schmitz-was also until this week the world's number one Call of Duty: More »
---
Yesterday, Kotaku posted this still image of an inventive way to hold the PS3 controller and play mecha game Armored Core.
I'd never seen anything like it. More »
---
As a principal artist at BioWare, and before that EA, Rodrigue Pralier has built (and dressed) some pretty badass game characters over the years, up to and including a certain Commander Shepard.
Working on the Mass Effect series Pralier has helped build some cool models and costumes, including... More »
---
And who doesn't? Kidding! (I love you Sega. I think.) Back in Dec. 2010, Kotaku broke the news that Sega was working on a urine-powered game system for Japanese toilets. More »
---
Late last year, a British documentary used footage from a video game and amazingly labelled it as a secret IRA recording. It has now, a few months later, been given a severe dressing-down.
British communications regulator Ofcom, which began an investigation into the incident last October, has this... More »
---
"I'm 12 and what is this". If you don't know what that means, here. Everybody back on the same page? OK, so we can all have a laugh at this poor guy's expense when he was banned from Star Wars: More »
---
Lies, bloodshed, betrayal! Power and influence, secrets and whispers, fragile alliances shattered in heartache and death! Also, lots of intense, weird sex. More »
---
Trailers. Walkthroughs. Cat videos. Whatever it is you waste your time watching on YouTube, have you ever considered the sheer scale of content being uploaded to the service's servers?
YouTube has, and has put together this awesome site to help you visualise it. More »
---
We like tips!
Got tips for our editors? Want to show the world your latest creation? Ready to anonymously share an unannounced game? Email us at tips@kotaku.com. Or leave us an anonymous voicemail at (612) 568-2581.
Want a different layout?
Click here for the Speak Up or Tips forums. Want a more "blog-like" look? Click the button up top next to "Top Stories."
Want just video games?
Try KotakuCore and you'll get news and opinion about video games minus our coverage of gaming culture and the cultures with which gaming intersects.
Get more Kotaku!
Want even more Kotaku? Want to know which of your friends read us? "Like" us on Facebook and follow us on Twitter.