After being revealed earlier this year, the PS Vita, Sony's PlayStation Portable successor, finally launched in Japan.
This past October, pre-orders kicked off, with folks lining up early to reserve their Vita.
In some parts of Tokyo, namely Akihabara and Shinjuku, the lines started late last night. In the above gallery, you can see a video of the Akihabara line at retailer Yodobashi Camera, courtesy of Kotaku Japan. Around thirty people or so waited for the Vita.
However, at around the same time last night, Kotaku Japan reported that there were only a few people waiting at the nearby Sofmap in Akihabara.
G/O Media may get a commission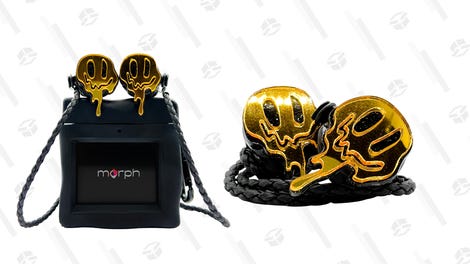 morph audio
Morph Earphones
The Bic Camera in Yurakucho, which drew over a thousand people when the PS3 launch, was pretty much deserted last night.
Sony Computer Entertainment honcho Kaz Hirai appeared at a countdown event in Shibuya, which drew a line of about sixty or more by 7am.
There was another launch event at the Bic Camera in Tokyo's Yurakucho also with Hirai, which drew over a line of over a hundred.
By this morning, over 600 people lined up at the Yodobashi Camera in Akihabara for the Vita. You can see that long line in the gallery above.
In Osaka, I spotted a short line in front of the Yodobashi Camera in Umeda—that same store has been known to draw lines of over a thousand people for game hardware. The photo was taken after people started being let in to purchase the Vita, so it's deceptively short.
With online sales and pre-orders, it's becoming harder to gauge whether or not new hardware is successful by checking lines. Check out the gallery for images of what the PS Vita's Japan launch looked like with photos from Kotaku and Kotaku Japan.
(Top photo: Kotaku Japan)