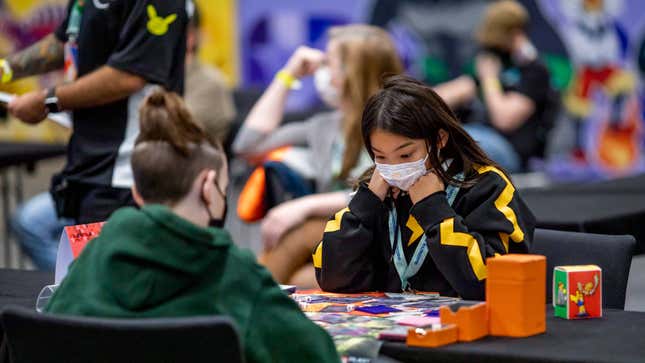 One of the judges at the official regional tournament for the Pokémon Trading Card Game that took place in Vancouver this weekend received a lifetime ban after he allegedly harassed transgender competitors.

According to a member of team Girl Power who competed at the Vancouver event, one of the judges, identified as Travis Madaris by Dot Esports, approached the group for a photo during the tournament on March 12 and later accosted them at dinner. Madaris allegedly started off asking about trans inclusiveness when taking a photo together at the competition, but the interaction, according to Eliza Barbera, the competitor who shared her team's story, devolved into telling the individual members why they didn't pass as women.
"This included how the online trans community is far too unhinged so it makes all trans people look bad, how trans people should wear pronoun pins to events if they don't want to be misgendered, and finally going around one by one to all of us pointing out why we don't pass for women," Barbera explained in a TwitLonger post.
"It's a good thing I can tell, so I can be respectful," he allegedly said. Berbera also claimed that Madaris followed her and her teammates as they left the venue for a restaurant where they were to have dinner following the competition and initial interaction with Madaris.
"He self invited himself. It was during the short walk to exit the venue that he mentioned he was kicked out of judging for the weekend," Barbera recounted in her post. "He told us some details but out of respect for the parties involved I do not want to speak to it. But we got a good idea that [the judge] was problematic at this point. He kept walking with us, saying he would drink and party with us."
G/O Media may get a commission
Save all week long
Discover Samsung Event Week-Long Deals
She added that he allegedly talked about mixing alcohol with the valium he had already taken and then oxycontin as well. But Barbera says they managed to leave the venue without Madaris. However, she says he nevertheless showed up at the team's table half an hour into their meal.
"I remember the restaurant security getting involved," she wrote.
Kotaku reached out to Madaris for a comment but did not receive a response by the time of publication. One of the members of Girl Power, Emmi, gave the following statement:
Part of the reason we created Girl Power was to band together to help one another through situations like this. I have never personally experienced anything as direct as this situation at an event, but have experienced lots of casual misogyny while playing competitively.
Girl Power reported the incident to the tournament organizers, who "permanently removed" him, since he allegedly had multiple accusations against him prior to this incident, according to various tweets shared in light of the incident with Girl Power. Barbera also said in her TwitLonger that Madaris himself told the team "he was kicked out of judging for the weekend." One Pokémon League participant added that some of Madaris' behaviors have allegedly gotten him "fired" from multiple leagues. It's commendable that the Vancouver organizers took action, but his long list of accusers raises questions about whether or not The Pokémon Company is doing enough to keep its players safe. Kotaku reached out to The Pokémon Company International to ask for clarification on whether the ban extends to all official events, and received the following comment:

The safety and well-being of our fans and competitors is our top priority. We always strive to maintain a safe, inclusive, and welcoming space for all fans and participants in the Play! Pokémon program. This includes our Trainers, our staff, and our tournament organizers. All are expected to align to the Play! Pokémon Inclusivity Policy. While we cannot comment on exact details related to this incident as it continues to be investigated, swift action was taken to remove the individual from the event when it was brought to our attention and they are indefinitely suspended from the program.

Another Girl Power member, Natalie, backed up Barbera's account of the events and tweeted about how the Pokémon TCG organizers needed to do more to promote inclusivity within the hobby.
"There should be universal training in pokemon on how judges should address and speak to trans and gender queer people, preferably directed by a trans or gender queer person," Natalie wrote. "Most judges are absolutely amazing, but the cracks that get through directly harm the community."
Update: 3/16/2023 at 3:50 p.m. E.T: The story was updated to include a comment from Girl Power.
Update: 3/17/2023 at 3:00 p.m. E.T.: The story was updated to include a comment from The Pokémon Company International.