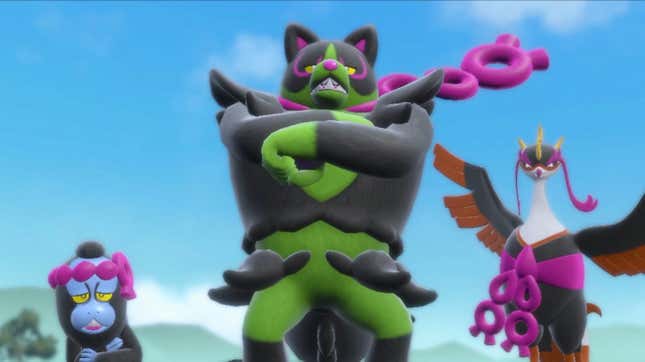 During today's Nintendo Direct, we got a new look at the upcoming Pokémon Scarlet and Violet's two-part DLC The Teal Mask and The Indigo Disk.

Spirittea Is Stardew Valley Meets Spirited Away, Can Take Our Money Now
The new trailer shows off some of the new Pokémon that will be added to the game after the DLC is released, as well as gives another look at the expansion's school field trip to Kitakami. The Teal Mask will take the player and their friends from their academy in the base game to a festival in a new land outside the Paldea region, and while there, they'll meet new characters Kieran and Carmine, as well as the new Pokémon Okidogi, Munkidori, Fezandpiti, and Ogerpon, the mascot Pokémon for the DLC. The Indigo Disk takes place at a different school called Blueberry Academy, and will feature Terapagos.

Also seen in the trailer are Terrariums, which seem to include rare Pokémon for you to catch similar to a Safari Zone. It seems like the DLCs will be expanding the Pokédex pretty significantly. Unfortunately, neither pack got a release date and are still vaguely slated for Fall and Winter 2023.
Both DLCs make up the Hidden Treasure of Area Zero, which is meant to wrap up the story of Scarlet and Violet, which left a lot of hanging threads in its final hours. A lot of the remaining story is mostly inferred from the Scarlet Book and Violet Book, which delves into the lore of Area Zero, which is found in the large crater at the center of the game's map. Though the A plot is mostly wrapped up by the time you hit credits, there are still some unanswered questions about the nature of Area Zero, the Terastal phenomenon, and Paradox Pokémon. Since The Teal Mask is the first of two DLCs, we probably won't know everything until The Indigo Disk launches and concludes the story.
Despite some issues with their performance, Pokémon Scarlet and Violet were the fastest-selling games in Nintendo's history when they launched in November 2022. But even beyond the technical trouble, the games also just had some weird design choices and a bland open world. That ending, though? Life-changing. If I played that shit when I was a child, my brain chemistry would've been completely altered.