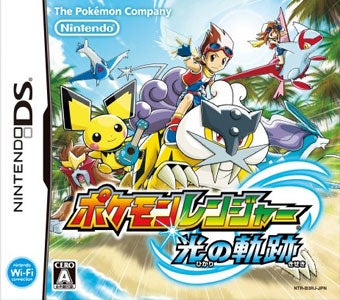 Just like last week, Nintendo's latest Pokemon spin-off, Pokemon Ranger: Hikari no Kiseki for the Nintendo DS, tops Japan's weekly software chart, fending off a long list of newcomers, including Battlefield: Bad Company 2.
To Bad Company 2's credit, the PlayStation 3 version of DICE's shooter managed a top ten spot, wedged between Japanese fare like RPG Maker DS and the customization heavy role-playing game Zettai Hero Kaizou Keikaku. (The Xbox 360 version of Battlefield: Bad Company 2 scored a spot at 14.)
Other new bestsellers on the Media Create chart include Yuusha no Kuse ni Namaikida Or 3D, part of the Holy Invasion of Privacy, Badman! series, now known as What Did I Do To Deserve This, My Lord? in English speaking areas of the world. And way down near the bottom of the list? Grand Theft Auto: Chinatown Wars for the PSP, which debuted slightly better in its DS incarnation late last year.
For the top 30 games for the week of March 8-14, according to Media Create, read on.
01. Pokemon Ranger: Hikari no Kiseki (DS) - 65,000 / 226,000
02. Tomodachi Collection (DS) - 36,000 / 2,953,000
03. New Super Mario Bros. Wii (Wii) - 35,000 / 3,487,000
04. Yuusha no Kuse ni Namaikida Or 3D (PSP) - 34,000 / NEW
05. Dynasty Warriors Multi Raid 2 (PSP) - 32,000 / NEW
06. Zettai Hero Kaizou Keikaku (PSP) - 31,000 / NEW
07. Battlefield: Bad Company 2 (PS3) - 28,000 / NEW
08. RPG Maker DS (DS) - 24,000 / NEW
09. Dragon Quest IX: Hoshizora no Mamoribito (Ultimate Hits) (DS) - 22,000 / 63,000
10. Wii Fit Plus (Wii) - 21,000 / 1,741,000
11. God Eater (PSP)
12. Kenka Bancho 4 (PSP)
13. Nobunaga no Yabou Tendou (PS3)
14. Battlefield: Bad Company 2 (Xbox 360)
15. .hack//LINK (PSP)
16. Resident Evil 5 Gold Edition (PS3)
17. Dragon Quest IV: Michibikareshi Monotachi (Ultimate Hits) (DS)
18. Monster Hunter Portable 2nd G (The Best) (PSP)
19. Wii Sports Resort (Wii)
20. Everybody's Tennis Portable (PSP)
21. Fushigi no Dungeon: Fuurai no Shiren 4 - Kami no Hitomi to Akuma no Heso (DS)
22. The Legend of Zelda: Spirit Tracks (DS)
23. Mario Kart Wii (Wii)
24. New Super Mario Bros. (DS)
25. Pokemon HeartGold / SoulSilver (DS)
26. Summon Night Gran-Thesis: Horobi no Ken to Yakusoku no Kishi (PS2)
27. Inazuma Eleven 2: Fire / Blizzard (DS)
28. Grand Theft Auto: Chinatown Wars (PSP)
29. Demon's Souls (The Best) (PS3)
30. Dragon Quest V: Tenkuu no Hanayome (Ultimate Hits) (DS)