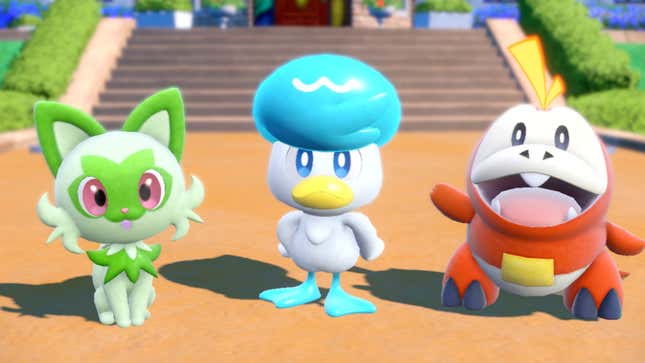 The Pokémon Company just announced that players who link their copies of Pokémon Scarlet and Violet to the Pokémon Home app can obtain special versions of the Paldea starters: Fuecoco, Quaxly, and Sprigatto. While you might already have all three from trading bred Pokémon with your friends, these special starters are variants that are slightly harder to obtain through just normal gameplay.
A Foe From The Next Team Ninja Game Is Giving Me Sekiro PTSD
Pokémon Home is a mobile app that allows you to store your 'mons on the cloud, which is handy if you're playing different Pokémon games, or if you're simply running out of local box storage. The app can also receive transfers from Pokémon Go, which massively expands your ability to obtain rare creatures. You still need to manually connect your Nintendo Switch games to the service, however. If you choose to do so with Scarlet or Violet, you'll be rewarded with a set of Paldea starters with Hidden Abilities.
Pokémon with Hidden Abilities have traditionally been more difficult to obtain than those found by simply running through the tall grass. You had to connect to an online service, capture them in a specific area, or participate in battles with special rules. Scarlet and Violet is no different, with most Hidden Ability Pokémon appearing during Tera Raid Battles. You can obtain an item called the Ability Patch to change your Pokémon's ability into its Hidden one, but they only drop during Tera Raids as well. So while these Pokémon aren't impossible to get during normal gameplay, the process can still be a grind.
And you know what, that's fine. I've always felt a strong sense of FOMO whenever exclusive Pokémon were given out during limited-time events, especially if they were region-locked. It's nice that these starters are nice-to-haves rather than a Pokédex necessity. And the app is free, so you're not splurging on these Pokémon.
The Pokémon Company has given no set date for when Scarlet and Violet can be linked to the Home app after walking back an initial release time, but it promised to release the new version "soon."
Update 5/19/2023 at 2:40 p.m ET: The Pokémon Company said it "mistakenly" published May 23 as the release date but clarified there is currently no set date for when the update will be live. This article has been updated to reflect the new information.