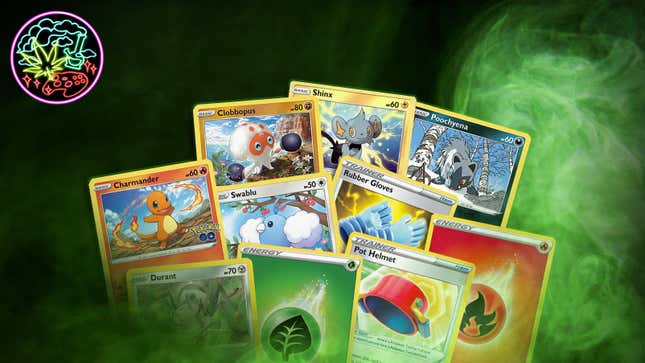 I'm not exactly up to speed on laws governing the sale of marijuana here in New York, but as a way of circumventing certain restrictions, there are some shops here where, rather than buying weed, you're "technically" buying something else and getting some weed, gratis, with your purchase. This is how I wound up with a shop in my neighborhood where, every several weeks, I'll go in, pick out some edibles, and hand over $40 for...a random Pokémon card, with the edibles as a "free gift." (This probably doesn't have anything to do with Japan entirely running out of cards. Probably.)

New Pokémon Scarlet And Violet Trailer Features Hot Profs, 4-Player Co-Op, And Lechonk, The Hero We Deserve
Now, I also don't know anything about the Pokémon TCG. In fact, I've never played a Pokémon game in my life. So in ranking the cards that I've gotten from my friendly neighborhood weed shop, I'm not doing so based on their rarity or value (they're all basically worthless), or their utility as cards in your deck, but simply as tokens of the purchase I've made.

Read More: Pokémon TCG Scarlet & Violet's New ex Cards Are Ridiculously Powerful
How well does the card match the vibe of the experience I'm after? I'm very accustomed to seeing unauthorized art of Garfield or Bart Simpson smoking a bowl or blazed out of their minds inside weed shops, but some of the critters and characters on the cards I've gotten might make even better ambassadors for the green herb's relaxing properties. So let's get started. From worst to best, here's every Pokémon card I've gotten from my local weed shop.
11. Durant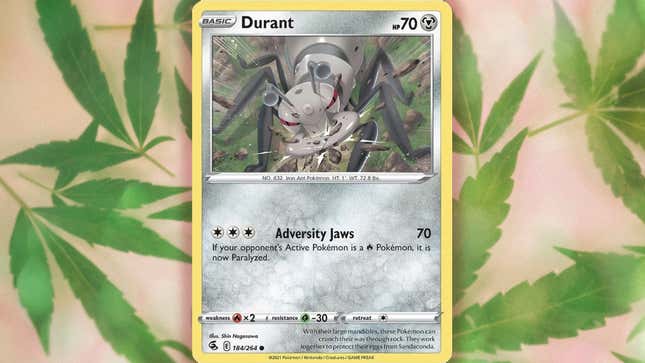 Sorry, no, this is just all wrong. This is the opposite of chill. An ant-like creature in an aggressive stance using its "adversity jaws"? I feel my fight-or-flight response being activated just looking at it. I'm trying to relax here, man. Go away.
10. Rubber Gloves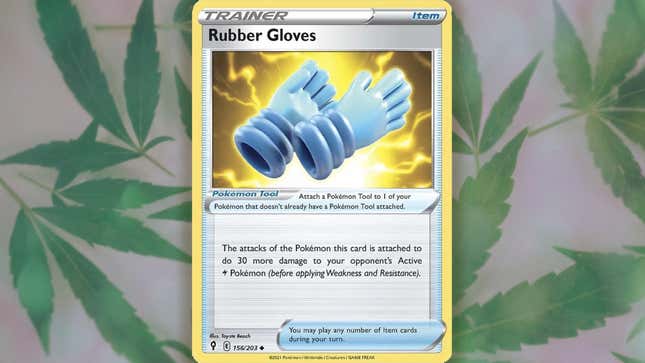 This one's just a non-sequitur. I could stretch the truth and say "Whoa man, yeahhhhh, sometimes I get so high I feel like I'm wearing rubber gloves" or something, but I don't. I cannot connect this to my experience of getting high in any way.
9. Poochyena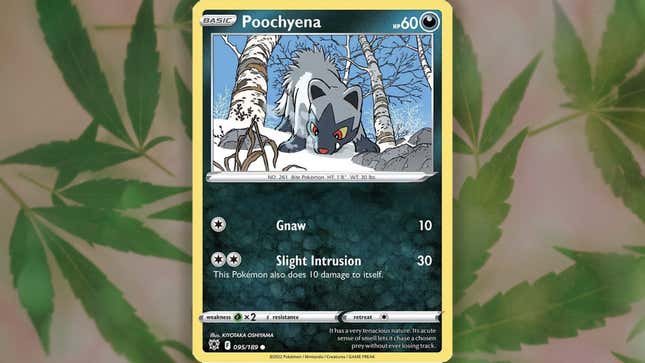 Poochy here is kinda cute! The chill winter landscape isn't quite the vibe I'm after though, and there are other pocket monsters who I can much more readily imagine enjoying the effects of a 10mg edible, so this ranks pretty low on the list.
8. Fire Energy
If I were a smoker, this might rank much higher, but I'm not. I'm terrible at smoking. I've never gotten used to the feeling of heat entering my lungs and I very often give myself coughing fits. So as someone who strictly takes edibles, this isn't really my thing, but I recognize that for many people, flame is an essential component of the alchemy through which they get high.
7. Charmander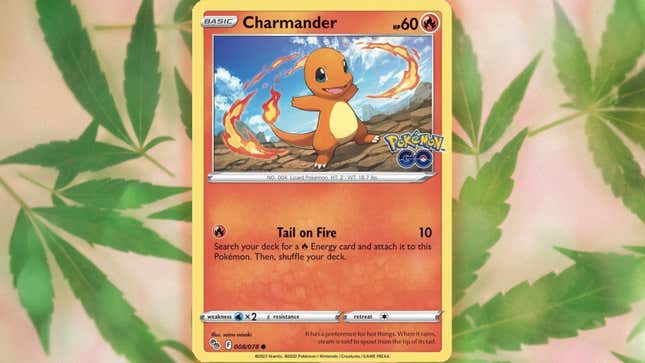 Speaking of flame, here we have one of the very few Pokémon I actually know by name. Normally I wouldn't think of Charmander as a good fit to be the mascot of my weed purchase—sorry, to be the card I purchase when getting some complimentary weed—but the art here scores big points. This Charmander looks like it's totally vibin'. Maybe it's in that headspace where even the most mundane things can seem amazing, and it's saying, "Whoa, cool!" as it lazily marvels at its own fire-spouting abilities.

6. Clobbopus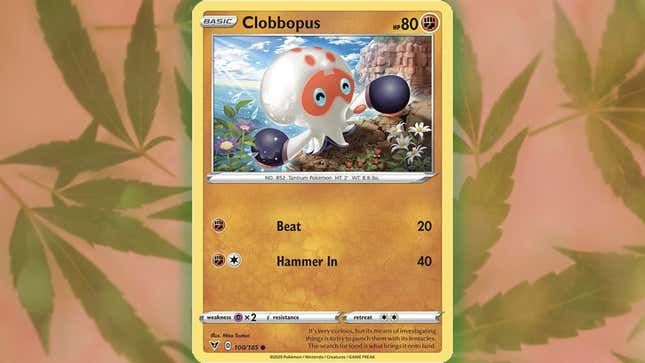 Now we're really getting somewhere! I had never heard of Clobbopus before getting this card (or, for that matter, any of the Pokémon you'll see later on this list), but the eyes (which I choose to read as a bit blissed-out), as well as the vibrant natural setting, are a pretty fitting accompaniment to my little crime candies. "I want to go to there," as they say, and with a little help from an edible, I can imagine that Clobbopus and I are chillin' together on a beautiful coastline.
5. Green Energy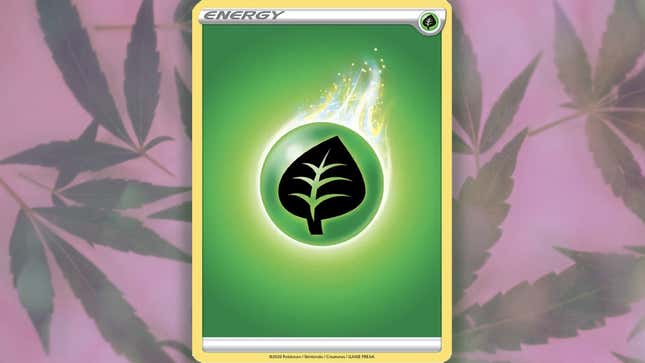 I mean, it's green energy. It's not particularly inspired or anything, but it's green and it's got a leaf on it. As a Pokémon card you might get at a weed shop, it nicely fits the bill. Simple and clean.
4. Swablu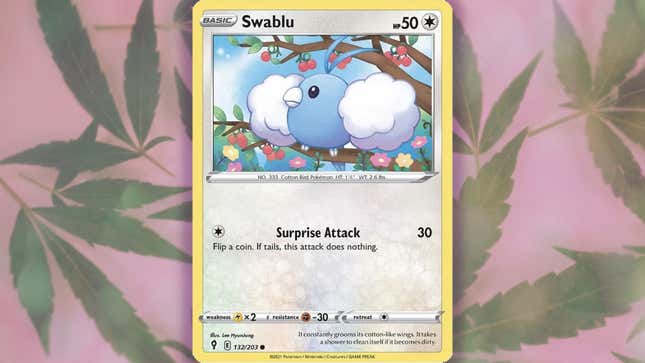 Yes! Swablu, take me away on your puffy...cloud wings? I know nothing about how Swablu works in the games but I'm going to assume that it wafts blissfully through the air without a care in the world.
3. Pot Helmet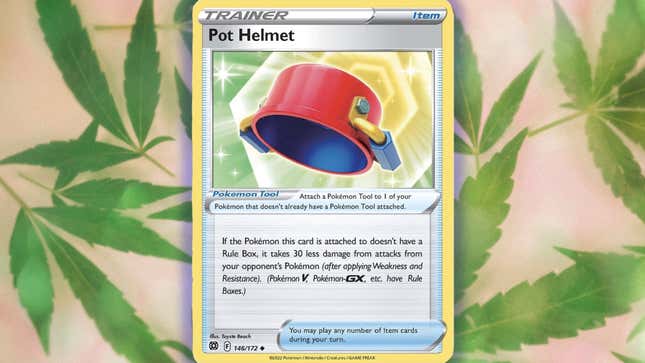 LOL. It has "pot" in the name.
2. Shinx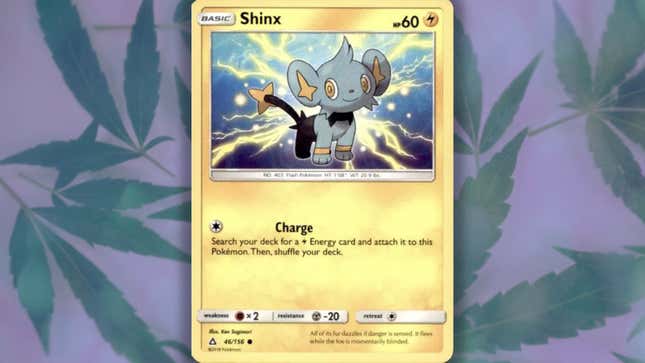 Now this critter looks high as a kite. All whorly-eyed and staring into nothing with a big smile on its face. It's in its happy place, feeling one with the universe, and that's where I want to be, too.
1. Cheryl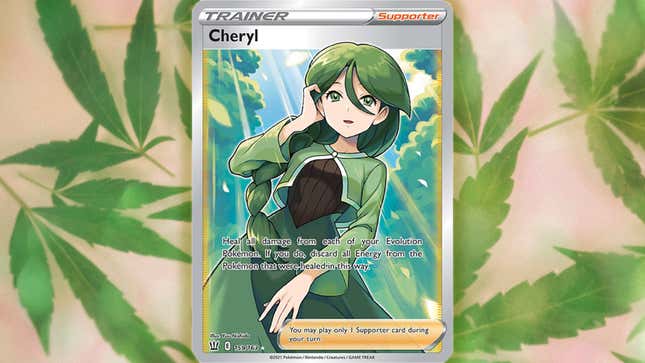 Okay, I'm cheating here a bit by using the full art version in the image above, which actually is worth around 15 bucks or so. The one I got from my local shop is the standard version, but while the art is smaller, the vibe is the same. I want Cheryl to bring me the special strain of weed she's cultivated in the Sinnoh region's climate. I want YouTube ASMR roleplays of Cheryl comforting me with personal attention while tending to her Pokémon and her plants. She is the absolute embodiment of the energy I'm seeking to attain when I pop an edible in my mouth.
So thank you, friendly local Pokémon card shop, for the complementary weed you give me when I spend $40 on a card that's actually worth just $0.10. The pairing definitely enhances my appreciation for what both elements have to offer.