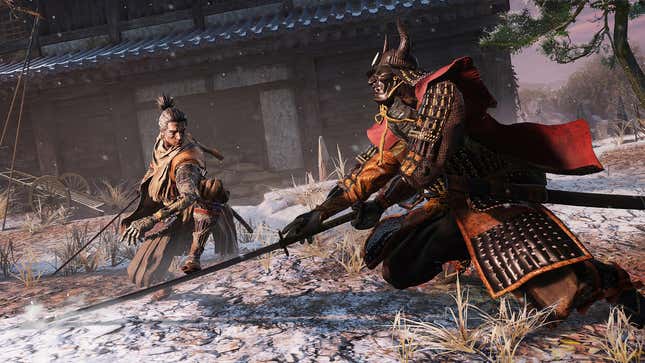 At this point, it almost seems silly to pay full price for a PlayStation game. Fresh on the heels of one big sale for PlayStation 4 and PlayStation 5, Sony has kicked off another. It's not as good as last month's, but it's not bad, especially for those who've been holding off on some of the bigger games of last generation, like Assassin's Creed Valhalla or Sekiro: Shadows Die Twice.

The Week In Games: Gold Rings And Ragnarök
Announced yesterday in a blog post, PlayStation's annual summer sale runs today through Wednesday, July 6. Whereas the previous sale focused on first-party games—specifically some of the biggest PS5 games—this month's highlights cross-gen games from third-party publishers. Here's a selection:
Ubisoft's viking-themed history murder sim Assassin's Creed Valhalla is down 60% to $24. (Valhalla is also included in the game library for Sony's revamped PS Plus.)
Same price point and markdown percentage goes for Riders Republic, Ubisoft's massively multiplayer action sports game.
The Witcher 3: Wild Hunt and all of its DLC is currently listed at $10. It's getting a next-gen upgrade later this year.
Sekiro: Shadows Die Twice, which some fans say is the best action game in FromSoft's oeuvre, is half off at $30.
Mass Effect Legendary Edition, the bundled 4K respray of BioWare's totemic trilogy of space RPGs, is also at $24.
At $32, Hitman 3's deluxe edition, a version of the popular stealth puzzler that folds in a ton of bonus content, is now officially listed at a lower price than the base edition.
Bandai Namco's Scarlet Nexus is half off at $30.
Shadow of the Tomb Raider, the third entry in Square Enix's reboot of the long-running action series, is $13. (It also has a demo.)
In case you haven't been overwhelmed by LotR fatigue, the practically endless open-world Middle-Earth: Shadow of War is down to $7.
Episodic narrative adventure Life is Strange 2 is down from $32 to $12. (Individual chapters are $4 a pop.)
Anthem is $6, lol.
You can see the full list over at PlayStation Blog, though note that it doesn't indicate therein how much each game is discounted or what they're currently listed at. You'll have to go to the PlayStation Store directly to see that.