What's not to like in this week's North American PlayStation Store update? Maybe that there are too many things to download? Or that you don't have a PlayStation Move to enjoy a handful of new Move-only demos?
There's a long, long list of new things to buy and try this week, including the PSN version of Space Invaders Infinity Gene, PlayStation Move puzzle game Tumble and some new Dio tracks for Rock Band. Cheap versions of Castlevania: Symphony of the Night, Castlevania Chronicles and Mega Man 9 are also worth looking into
The full list is below.
Games & Demos for PlayStation 3
My Aquarium ($4.99)
Space Invaders Infinity Gene ($9.99)
Worms 2: Armageddon ($14.99)
Tumble ($9.99)
PS One Classics: Soviet Strike ($4.99)
NBA 2K11 Demo
FIFA Soccer 11 Demo
Space Invaders Infinity Gene Demo
Worms 2: Armageddon Demo
Racquet Sports Demo
Eye Pet Move Demo
Tumble Demo
Games & Demos for PSP
Phantasy Star Portable 2 ($39.99)
UFC Undisputed 2010 ($39.99)
Cabela's North American Adventures ($19.99)
Gladiator Begins ($34.99)
Caterpillar – Minis ($4.99)
Panda Craze – Minis ($4.99)
G/O Media may get a commission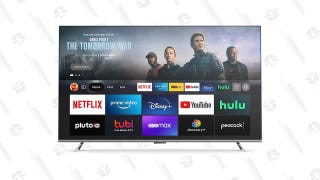 Save 46%
Fire TV 55" Omni Series 4K UHD Smart TV
Add-ons & Expansions
Rock Band tracks
"Holy Diver" by Dio ($1.99)
"Stand Up and Shout" by Dio ($1.99)
"Nirvana" by Juliana Hatfield ($1.99)
"Irish Blood, English Heart" by Morrissey ($1.99)
"Straight Lines" by Silverchair ($1.99)
"This Charming Man" by The Smiths ($1.99)
"Writing on the Walls" by Underoath ($1.99)
"Africa" by Quartered ($0.99)
"Nightlife Commando" by Bang Camaro ($1.99)
"Shop Vac" by Jonathan Coulton ($1.99)
"Swallow The Razor" by Bang Camaro ($0.99)
"The Final Episode (Let's Change The Channel)" by Asking Alexandria ($1.99)
Game Videos
Deus Ex 3: Human Revolution Gamescom Trailer
Shaun White Skateboarding – Announcement Live Action Trailer
Shaun White Skateboarding Dev Diary #1
Athlete Profile – Dennis Enarson
Athlete Profile – Jamie Bestwick
Athlete Profile – Ryan Nyquist
PlayStation Pro Moments Chicago
LittleBigPlanet 2 – GamesCom Trailer
The Fight: Lights Out GamesCom Trailer
No Heroes Allowed! – Announcement Trailer
Themes, Wallpapers & Avatars
Space Invaders Infinity Gene XMB Theme 1 (free)
Space Invaders Infinity Gene XMB Theme 2 (free)
Space Invaders Infinity Gene XMB Theme 3 (free)
MLB 10: The Show Theme (free)
NCAA Dynamic Theme – Nebraska ($2.99)
NCAA Dynamic Theme – Kansas ($2.99)
NCAA Dynamic Theme – Arkansas ($2.99)
NCAA Dynamic Theme – Arizona ($2.99)
NCAA Dynamic Theme – Clemson ($2.99)
NCAA Dynamic Theme – Illinois ($2.99)
NCAA Dynamic Theme – Connecticut ($2.99)
NCAA Dynamic Theme – Air Force ($2.99)
Play On Words Theme ($1.49)
PixelJunk Racers 2nd Lap Wallpaper #2
Mega Man 10 Avatars ($0.49) (x4)
Street Fighter Avatars ($0.49) (x3)
Sales, Price Drops & Bundles
Castlevania: SotN (now $4.99, original price $9.99)
Castlevania Chronicles (now $2.99, original price $5.99)
Monkey Island Special Edition 2: Lechuck's Revenge – Sale (now $4.99, original price $9.99)
Age of Booty – Sale (now $4.99, original price $9.99)
Mega Man Maverick Hunter X – Sale (now $9.99, original price $19.99)
Mega Man 9 – Sale (now $4.99, original price $9.99)
Grand Theft Auto Chinatown Wars – Permanent Price Drop (now $19.99, original price $29.99)
Mega Man 9 – DLC Bundle ($4.99)
Mega Man 9 – Themes Bundle ($5.99)
Monkey Island Special Edition: 1 and 2 Bundle ($7.49)
Cuboid Ultimate Bundle ($12.99)
Magic Orbz Extreme Bundle ($12.99)
Magic Orbz Level Bundle ($4.99)
Mahjong Tales Wisdom Bundle ($10.99)
Smash Cars Extreme Bundle ($12.99)