While Injustice 2 doesn't come out until May 16, the free-to-play mobile version is available in soft-launch on iTunes in the Philippines. The three-on-three fighter is far from perfect, but more than up to keeping players in the action during bathroom breaks.

The mobile version of Injustice 2 is a free-to-play fighter in which teams of three DC Comics heroes and villains beat the living snot out of each other. Players collect gems to unlock chests containing items, characters (or character shards) and currency, constructing and enhancing their roster of heroes and villains into a fighting force of extraordinary magnitude.
In the video atop the post you can see my crack team of Batman, Scarecrow and Doctor Fate winning my very first asynchronus arena battle against another players' team before being completely decimated by one of the game's single-player boss fights.
G/O Media may get a commission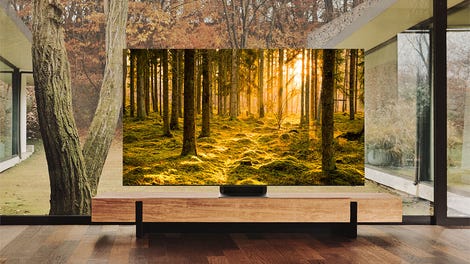 Up to 40% off
Samsung Smart TVs
Combat brings to mind Kabam's comic book brawler, Contest of Champions. Tap or swipe the right side of the screen to attack, swipe left to dodge or use ranged attacks. There's a small shield button to touch to block, which I always miss, but it's nice that it's there.
What you won't see in the video is any of the character's ultimate attacks, but as you can see in the shot below, taken from some additional footage, they're exactly the same as their console counterparts.
As free-to-play games go, Injustice 2 mobile isn't too greed, dropping gems to unlock new heroes pretty freely in the early hours via in-game achievement and mission rewards. The fighting controls aren't quite as responsive as I would like, but they're good enough to give it a go.
Injustice 2 mobile should be out in North America incredibly soon on iOS and Android devices. If you want to play it right now, there are ways.