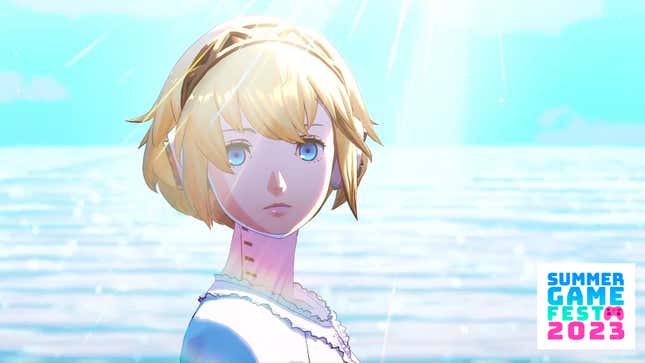 The quintessential role-playing game Persona 3 is getting a remake, and later sequel Persona 5 is getting another spin-off game, developer Atlus revealed at Xbox Games Showcase. Fans were already braced for this news—leakers predicted it earlier this week, and if that weren't enough, Atlus accidentally posted it on Instagram June 8. Oops!

Street Fighter 6's Modern Controls Are Great For The Game
Read More: Persona 5 Tactics, Persona 3 Remake Trailers Leak
Persona 3, senior editor Luke Plunkett recently wrote of the 2006 PS2 game, "has its rough edges."
"It's also lacking some of the vibrancy and exuberance of the more recent games when it comes to its cast," he says. But it set a precedent for the later, more famous installments of the series—4 and 5 follow Persona 3's lead in asking players to balance the playable character's social life with their persona's dungeon crawls—and makes a memorable gaming experience between the "the haunted school island, the wandering around like a bum teenager at the end of class," Plunkett says.
The remake, Persona 3 Reload, is a more robust overhaul than this year's remastered version of Persona 3 Portable, which initially released in 2009. That game was a welcome improvement to the series' unsung hero, but it didn't touch up the game beyond patting down its outdated graphics. Atlus' just-announced, true remake seems like a more promising upgrade. It'll release in early 2024.

Persona 5 also has more inspiration left to give, apparently, even after already spawning the 2018 rhythm game Persona 5: Dancing in Starlight, the enhanced re-release Persona 5 Royal in 2019, action role-playing game Persona 5 Strikers in 2020, and upcoming mobile spin-off Persona 5X: Phantom of the Night. Good for Persona 5.

Persona 5 Tactica seamlessly adapts the already turn-based role-playing game to a turn-based tactics game. The trailer promises all the chibi crime-fighting you could ever want and more dungeons. That game is set to release on November 17.
Both will be available on PC and Xbox, and they'll make it to the latter's subscription service Game Pass on day one.
---
Kotaku is covering everything Summer Game Fest, from the main show on Thursday to other events happening throughout the next week. Whether you're into larger-than-life triple-A games or intimate, offbeat indies, you can keep up with all things SGF here.