"Perhaps" because it's not like I've seen every mod for Morrowind. Someone might have come up with something better in the past, even with the limitations of an old PC game like Morrowind. But yeah, these look great.
The new "Remnants" trailer for Skywind, the ambitious mod which aims to bring Morrowind to Skyrim's game engine, takes us into one of the many Daedric ruins scattered around Vvardenfell.
The folks behind the Skywind mod are aiming for a late 2014 launch. Until then, check out their Facebook page for some neat concept art and WIP pics.
Skywind - 'Remnants' Trailer (Daedric Ruin Preview) [SquallyDaBeanz@YouTube]
Questions? Comments? Contact the author of this post at andras-AT-kotaku-DOT-com.
G/O Media may get a commission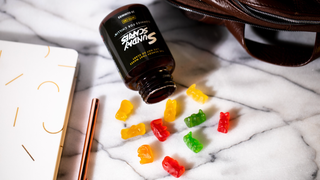 10mg CBD Gummies (22-Count)