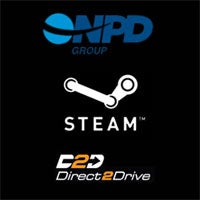 Could Left 4 Dead's star be finally on the wane? If you look at the retail sales charts for the week ending February 14, you'd say "yes", the game finally dropping from the top 10.
But that's precisely why we don't just look at the retail charts. While the game made way on NPD's charts for the usual procession of Blizzard/EA titles (the surprisingly high debut of FEAR 2 notwithstanding), on the Steam charts, it's still going strong at #2.
And look at Dawn of War II go!

NPD Sales Charts February 8-14 (via Shacknews)
1. World Of Warcraft: Wrath of the Lich King
2. F.E.A.R. 2: Project Origin
3. The Sims 2 Double Deluxe
4. Spore
5. World Of Warcraft Battle Chest
6. The Sims 2 Deluxe
7. World Of Warcraft
8. Call Of Duty: World At War
9. Fallout 3
10. The Sims 2 Apartment Life
Steam Charts As Of February 23
1. Dawn of War II
2. Left 4 Dead
3. FEAR 2
4. Counter-Strike Source
5. Empire: Total War (pre-sale)
6. The Orange Box
7. Empire Total War Special Forces Edition (pre-sale)
8. Team Fortress 2
9. Fallout 3
10. Call of Duty: World At War
Direct2Drive Charts As Of February 23
1. Dawn of War II
2. Far Cry 2
3. FEAR 2
4. Mass Effect
5. Fallout 3
6. Defense Grid
7. Rome Total War
8. Red Alert 3
9. Vampire: The Masquerade - Bloodlines
10. Civilization IV