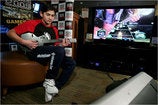 Danny Johnson, Wednesday, set a new world record in Guitar Hero III, not only toppling the previous record set last August in Minnesota, but also landing a story in the New York Times.
Seth Schiesel reports that Johnson recorded a score of 973,954 in a roughly seven-minute rendition of DragonForce's Through the Fire and Flames at a Best Buy in Midtown Manhattan.
Johnson says he owes his record-setting play through, in part, to strategic use of Star Power.
"You really have a choice of using Star Power during Red Snake or during the Twin Solo," he said, referring to guitar passages in "Through the Fire and Flames."
Sort of a no-brainer, but what is surprising is how many plastic guitars Johnson went through preparing for the record run. About 80 of the Guitar Hero controllers were destroyed over the last nine months in practice sessions by Johnson.
"When you're hitting that many notes and playing that fast, it just terrorizes the controller," said Scott Johnson, 45, Danny's father.
Johnson's record and his frightening practice didn't just land him story in the gray lady, it also got him an endorsement deal with gaming team and event promoter eMazingGaming.com.