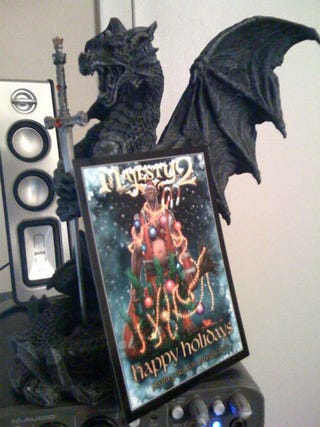 Paradox Interactive, the developers behind Majesty 2: The Fantasy Kingdom Sim, tend to do things on a more epic scale. For instance, their holiday card came with its own dragon.
I wasn't expecting any packages today, so Paradox Interactive's holiday greeting took me by surprise. In fact, at first I didn't even see the card, it having fallen to the floor while I struggled to unbox thing accompanying dragon statue. Struggling for 20 minutes to unbox a statue that comes with its own jeweled-sword letter opener is somewhat ironic, so not only did Paradox send a giant thing to me for the holidays, they also got an inaccurate Alanis song stuck in my head.
Happy holidays and happy new year to the folks at Paradox. My old D&D friends are sure to appreciate this addition to my apartment's decor.