Imaginary childhood friends can be adorable in any form, even as a giant pink rhino. It's the rhino's craving for poisonous frogs that makes him a monstrous threat, and the center of a poignant tale that deals with one developer's troubled childhood.
This is Papo & Yo by the Montreal studio Minority, touted today on the PlayStation blog. It'll be shown at E3 and will release next year, thanks to Sony Computer Entertainment of America's "Pub Fund," which matches development costs for certain independent titles.
It's the kind of story that's perfect for the Pub Fund. Vander Caballero, the creative director of Minority, says Papo & Yo is about his father, "a good man but also an evil one. Like many, he used alcohol and drugs to cope with a challenging life, and I was caught in the middle of it."
In the game, when Monster (the rhino) eats a poisonous frog, he transforms into a "an evil killing machine, his fury pushing him to destroy everything that is around him - including Quico," the game's protagonist. "Quico's only chance for survival is to find a way to cure his best friend."
From the trailer, we can see it touchingly addresses the worst aspect of substance abuse—the cruelty and hurt inflicted on loved ones—and justifies what might seem a hopeless mission with a child's optimism and unconditional love.
G/O Media may get a commission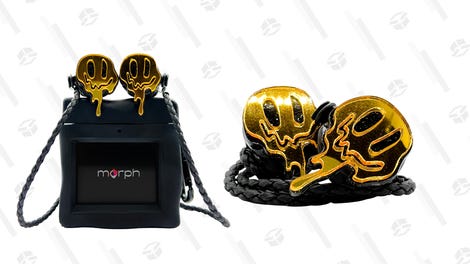 morph audio
Morph Earphones
"I remember playing videogames in my difficult childhood days," writes Caballero. "I remember how the unpleasant world of adults loomed around me and made me feel vulnerable. But I did not feel like that when I was playing as Mario: I felt powerful and in control of a fantastic world. I loved defeating bosses that were larger than life to me, and today I thank you Miyamoto; now is my time to give back."