I could tell you all about how this week's PAL PlayStation Store update features a premium "Union Jack" theme. Or how you can get a free FIFA 10 wallpaper. But you'll probably be interested in something else.
Like Trine. The long-awaited PSN version of the PC platformer - which we like very much - is now available on the PAL PlayStation Store, giving Europeans and Australasians a rare one-up on their North American counterparts, who sadly this week missed out.
One slight catch, though: it's £17/€20, which is steep.
Downloadable Games & Demos
Command & Conquer: Red Alert 3 – Commander's Challenge (£7.99/€9.99)
Trine (£16.99/€19.99)
Bomberman Ultra (£7.99/€9.99)
Need For Speed: SHIFT (£29.99/€39.99)
Pro Evolution Soccer 2010
NBA Live 10
G/O Media may get a commission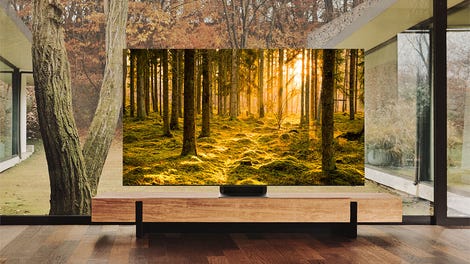 Up to 40% off
Samsung Smart TVs
Game Add-ons
Batman: Arkham Asylum – Insane Night Map Pack (free)
Tiger Woods PGA Tour 10 – Gary Player Pack (£3.19/€3.99) (This reduced price will be valid for one week only)
Red Faction Guerilla – Multiplayer Pack 02 (£5.49/€6.99)
Dynasty Warriors: Strikeforce – Additional Quests 5 (free)
Midnight Club LA: South Central - Ultimate Content Pack (£7.99/€9.99)
Guitar Hero 5
* AFI Track Pack (contains the three AFI tracks listed below) (£4.39/€5.49)
* Beautiful Thieves by AFI (£1.59/€1.99)
* Girls Not Grey by AFI (£1.59/€1.99)
* The Missing Frame by AFI (£1.59/€1.99)
* Somewhere in the World it's Midnight by Street Sweeper Social Club (£1.59/€1.99)
Rock Band
* Anvil Pack 01 (this pack contains the three Anvil tracks listed below) (£2.49/€3.99)
* 666 by Anvil (£0.99/€1.49)
* Metal On Metal by Anvil (£0.99/€1.49)
* This is Thirteen by Anvil (£0.99/€1.49)
* Hand Me Down World by The Guess Who (£0.99/€1.49)
* No Time by The Guess Who (£0.99/€1.49)
* Pick Me Up by Dinosaur Jr. (£0.99/€1.49)
* Rock Your Socks by Tenacious D (£0.99/€1.49)
* The Wagon by Dinosaur Jr. (£0.99/€1.49)
* Tribute by Tenacious D (£0.99/€1.49)
Rock Band Unplugged
* Back From The Dead by Spinal Tap (£0.99/€1.49)
* Bring Me To Life by Evanescence (£0.99/€1.49)
Game Videos
Uncharted 2 Fortune Favours The Bold Trailer
Dante's Inferno Gluttony Developer Diary
Dante's Inferno Lust Developer Diary
FIFA 10 Gamescom Trailer
Ratchet & Clank: A Crack In Time Space Combat Trailer
Heroes Over Europe Trailer
WET Video Short 1
Themes & Wallpapers
Dark Fantasy (£1.19/€1.49)
Digital Techno (£1.19/€1.49)
European Highlands (£1.19/€1.49)
Evil Clowns (£1.19/€1.49)
Ink & Saints (£1.19/€1.49)
Seaside Sunsets (£1.19/€1.49)
Tigers (£1.19/€1.49)
Union Jack (£1.19/€1.49)
FIFA 10 Wallpaper
Command & Conquer: Red Alert 3 Commander's Challenge Wallpapers x3
Heroes Over Europe Wallpapers x4